Career Development
HKU – Neuberger Berman Private Equity Internship Programme 2019-20
First private equity experience at Neuberger Berman
In 2019, HKU Business School established a two-year partnership with Neuberger Berman Asia Limited (NB) (www.nb.com) to launch a Private Equity Internship Programme exclusively for our undergraduate students.
The Programme aims to help our students gain exposure to the world of finance and private equity. Early experience is important for cultivating the next generation of private equity professionals in Hong Kong and offering invaluable career development. In September 2019, a session was held at HKU to introduce the Internship Programme, attracting over 100 participants. More than 170 applications were eventually received.
Through rigorous selection conducted by both our School and NB, four applicants were shortlisted and offered semester-long internship opportunities on a rotational basis. They were engaged in relevant training programmes, meetings and firm-wide presentations at NB.
Let's hear what the interns said.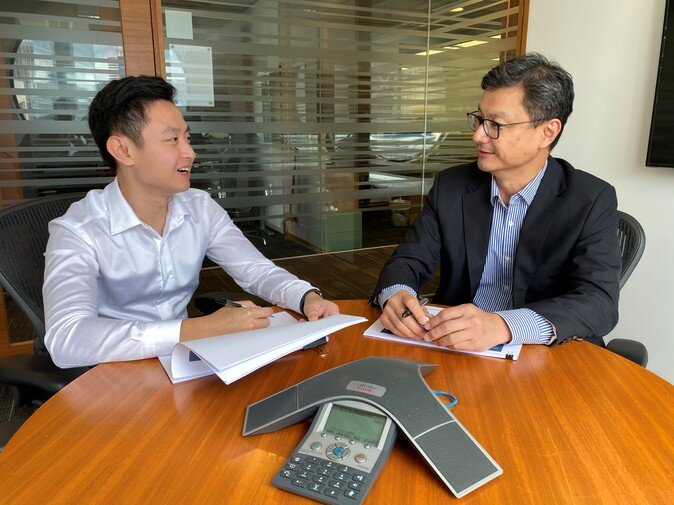 Let's hear what the interns said.
"ESG investing has been gaining prevalence. Neuberger Berman, a leading investment manager, has taken it to the next level by "investing in FBE students". This year, I am grateful to have the opportunity to join the HKU-Neuberger Berman Private Equity Internship Programme. Not only have I gained practical experience of private equity investment by working in the deal teams, but I have also been coached by the nice and warm colleagues who shared with me what makes a
good investor and offered me valuable career advice. "

NGAI Siu Chung
Elvis, BBA(IBGM) Class of 2020
---
▸Elvis (left in the photo) with Mr. Kent Chen, Managing Director & Head of Asia Private Equity at NB.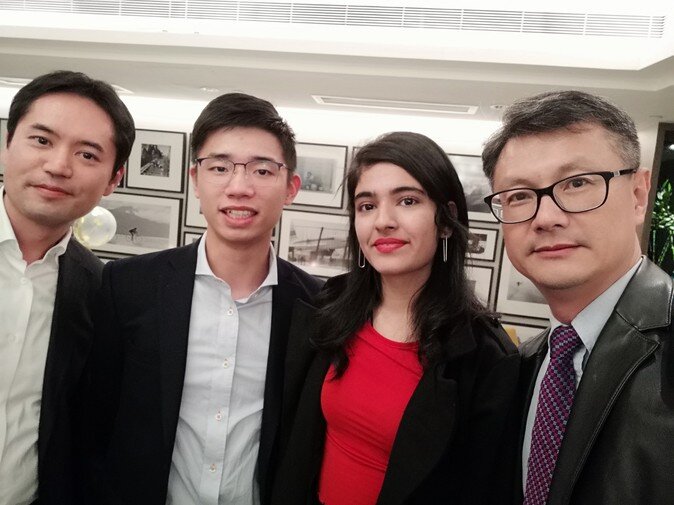 "My experience at NB has been one of the most fruitful internship experiences that I have taken part in. My time there has definitely given me an exclusive insight into the PE market, which not a lot of university students are given a window into this early on in their careers. Working side-by-side with such a professional team has allowed me to develop myself both professionally and personally."

KUMAR Neha
BBA(IBGM)Class of 2021
---
"Being a Private Equity intern at NB has been a rewarding experience for me. I have been exposed to various PE deals, participated in the due diligence process as well as the preparation of the investment memos. I learned a lot in the process with the advice from helpful and kind colleagues. I am grateful for the precious opportunity, thanks HKU FBE and NB."

KWONG Hing Tim, Kony
BBA(IBGM), Class of 2021
---
▸Kony (second from left in the photo) and Neha (second from right) with other colleagues at NB.
"It has been 4 months since I joined Neuberger Berman in March 2020. Looking backward, this whole journey has been remarkably enriching and has far exceeded my expectations. For juniors who aspire to pursue a buy-side career in the future, I do highly recommend you all to apply to Neuberger Berman next semester. Finally, hereby would like to express my greatest gratitude to Kent and his team who have mentored and guided me along this journey since Day 1. Thank you so much for having me on board! "

TAN Li Khai
BBA(Acc&Fin) Class of 2021
---
▸Information session of the programme in September 2020.
For more internship opportunities, please visit HKU Business School Career Portal.