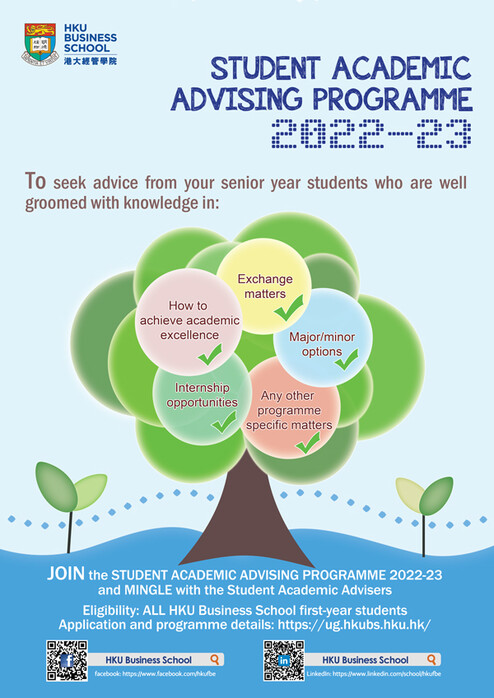 Student Academic Advising Programme (SAA) provides an excellent platform for freshmen to learn from senior year students of the School. If you are a first-year student in 2022-23, you will be cordially invited to all the activities organised under the SAA programme throughout the year, e.g. course selection counselling sessions, orientation, thematic talks, facebook group. Please stay tuned to your HKU email for our invitations!
Upcoming Activities (Semester 2, 2022/23)
January 17, 2023 (Tuesday)
January 30, 2023 (Monday)

11:30 a.m. - 12:30 p.m.
2:30 p.m. - 4:30 p.m.

K.K. Leung Room 309, 3/F

Course Selection Counselling Sessions


Freshmen can simply drop in to seek advice from Student Academic Advisers
Registration is not required

March 2, 2023 (Thursday)


12:30 p.m. - 1:30 p.m.
K.K. Leung Room 603, 6/F

Thematic Talk 3: How can I find a summer job in my first year of study?

April 3, 2023 (Monday)


12:30 p.m. - 1:30 p.m.

K.K. Leung Room 315, 3/F

Thematic Talk 4: What should I pick for my second major/minor?