Leadership skills, ability to work with others, creativity, oral communication skills, self-confidence, and written communication skills. How would you rate yourself across these categories?
To develop all these skills, as well as help prepare students to excel in both local and international case competitions, HKU Business School is offering a 6-credit course in the spring semester 2022/2023 - MGMT2787 Business Case Analysis and Presentation.
Students will work in rotating groups and have to prepare and present multiple cases to senior executives. In previous years, senior executives from ANT, Li & Fung, Tata Consultancy Services, McKinsey, Deloitte Consulting, Rabobank, Redress, HSBC, Hysan Development, K11 and more gave feedback to students on their presentations! Students will also have ample opportunity to communicate with these executives and ask for practical advice!
There are a limited number of places for the course. To be considered for admittance, please kindly fill in the survey hereon or before January 4, 2023 (Wednesday).
Course Name

Business Case Analysis and Presentation

Course Code

MGMT2787

Teaching Schedule

Spring 2023

Tuesday 15:30 – 16:20

Friday 15.30 – 17:20

Classroom

KKL 301

Grading

Group Presentations

Individual Case Reports

Participation and attendance

40%

40%

20%
This is what some of the previous participants had to say about the course in the anonymous SETL questionnaire:
An absolute brilliant and recommended course. The course is immensely useful for any student in that the training is applicable for all other courses. The best thing about this course would be the guest speakers/judges every week – their insights and unique perspectives on a range of topics were inspiring and useful. The content of the course was equally brilliant – the frameworks taught are relevant to any business course; the techniques on designing better PPT slides e.g. action titles, and how to, deliver better presentations are certainly beneficial; and the individual reports and group presentations provided a great opportunity to practice case cracking and apply the techniques we learnt in class. The strong group feature in this course allowed us to work with a diverse group of classmates, which facilitated greater creative thinking and new ideas.
***
Each presentation and report has enabled me to develop a better understanding of what the professor expects. The guest speakers are insightful and give us very practical advice and comments. Students have the opportunity to work in different groups, which is challenging but exciting at the same time. All the above are things I have never experienced before.
***
The professor teaches us different frameworks applicable to different situations, but stresses not to use something merely because we just learned it. He knows the difficulties we are facing and addresses them during lectures.
***
The professor is very diligent, approachable and is willing to have ZOOM meetings with us. I have learned so much from having meetings with him.
***

I love this course!
***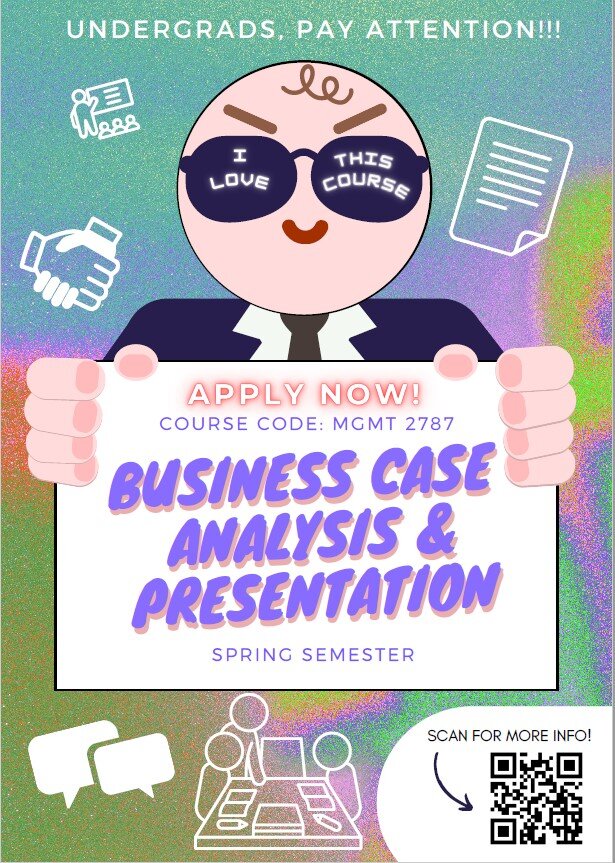 For any further enquiry about the MGMT 2787, please don't hesitate to contact the instructor Mr. Jeroen VAN DEN BERG at jeroen@hku.hk.