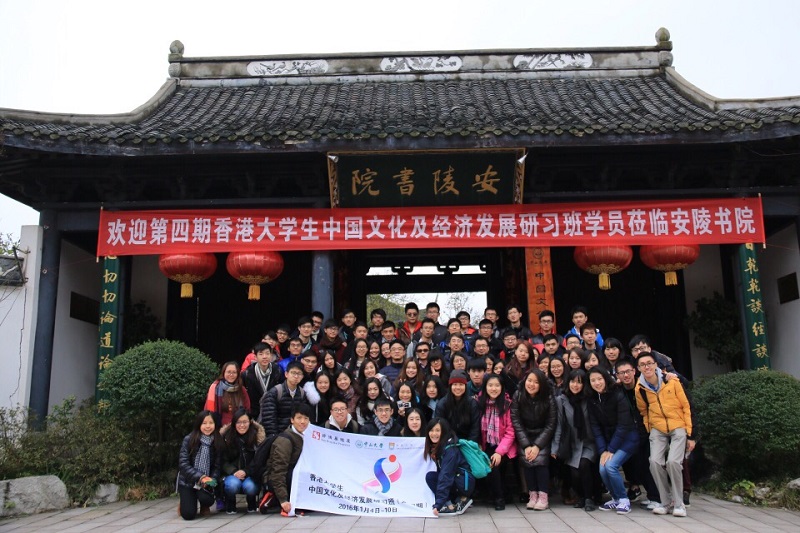 INTRODUCTION
China's economy has an unprecedented impact on the global economic development. This programme offers a precious opportunity for students to have a glimpse of today's China and its economic situation through a series of workshops and site visits.
OBJECTIVES
To enhance students' understanding of the social, political and economic development in the Mainland China.
To allow students to gain all-rounded perspectives on the business culture and practices in China through a series of workshops and site visits.
PROGRAMME DETAILS
Date: 26-31 December 2016
Topics of workshops include
Pearl River Delta economic integration and co-operation between Guangdong and Hong Kong
Chinese contemporary political and economic development
Economic growth in China
Guangzhou development forum: understanding social change in Mainland China from the perspective of rural reconstruction
The Study Tour includes visits to the Pearl River, Zhuhai, Nansha, Yongxing, Whampoa Military Academy, Guangzhou Higher Education Mega Center and other cultural and historical sites. All activities will be conducted in Mandarin.
(Topics and itinerary are subject to fine-tuning)
Programme fee
All programme fees will be sponsored by the organisers. A refundable deposit of HK$1,000 has to be paid by student participants. The deposit will be refunded to students, upon completion of the programme, including a submission of an essay written in Chinese and English.
Application period
9:00 a.m. 24 October 2016 (Monday) – 9:00 a.m. 7 November 2016 (Monday)
Eligibility
All FBE students
Students with the following attributes:
o Passion to understand China and interested to work in China in future;
o Open and critical mindset;
o Basic level of Mandarin and Cantonese
*Shortlisted students will be invited to the group interview held in mid/late November.
Post-event sharing from student participants of 2015-16
"In this 7-day tour, lectures with rich and comprehensive contents ranging from political, economic and cultural aspects were given out by prominent professors from the Sun Yat-sen University (SYSU). I got more than expected from this study tour in terms of knowledge, friendship and cultural exchange."
Miss LAU Wing Tung Catherine, BBA(Acc&Fin) Year 4
"This study tour is one of the most memorable experiences in my university life. Being a BBA(Law)&LLB student, my academic study is mainly focused on accounting and laws. However, this study tour allowed me to have some touches on culture, literature, politics and economy. From the social aspect, I had a lot of cultural and intellectual exchange with mainland students."
Mr. LAM In On Darren, BBA(Law)&LLB Year 2
"This China Economic Development Study Tour is really a wonderful experience. In this tour, I stayed in Guangzhou and Chenzhou with students from both the University of Hong Kong (HKU) and Sun Yat-sen University (SYSU). We attended lectures, had site visits, studied and played with each other every day. This tour is definitely one of my most unforgettable moments in my university life."
Mr. YAU Lap Man Norman, BSc(QFin) Year 4
"The arrangement and itinerary of the trip were extremely satisfactory. There were lectures, sight-seeing, academic discussions, campus exploration, team building activities and so on during the 7-days trip. We also had the opportunity to live in the beautiful SYSU Hotel Conference Centre and Anling College. I was really impressed by the smooth arrangement, quality education, comfortable accommodation and diverse elements of the trip."
Miss TONG Wing Lam Candy, BEcon&Fin Year 4