Entrepreneur Society@HKU has rescheduled their "Startup 101- Incubator: Level up your startup knowledge with Maggie Luk" event on March 9, 2021 due to unforeseeable matter.
You may refer to the message below for details regarding the event. Interested students should register online by March 8, 2021 (Monday).
---
[Message from Entrepreneur Society@HKU]
Entrepreneur Society@HKU continues to bring new opportunities for students to learn and connect talents in the Entrepreneur world. You are cordially invited to join our upcoming event "Startup 101- Incubator: Level up your startup knowledge with Maggie Luk" to gain insights on startup investing.
We are delighted to have Maggie Luk, Incubation and Ecosystems Lead at The Mills Fabrica as our speaker. After her extensive working experience in the banking sector, Maggie harnessed her leadership experience and ventured into the startup space to help techstyle startups grow and scale.
Details:
Date: March 9, 2021 (Tuesday)
Time: 20:30 - 21:30
Speaker: Maggie Luk, Incubation and Ecosystems Lead, The Mills Fabrica
Venue: Zoom (link to be sent to your email/whatsapp upon registration)
Topics covered:
> Current state of HK's startup ecosystem
> The difference between incubators
> The role that incubators play in the startup ecosystem?
> Who are the target users / who is eligible to join
> What are the key activities of incubators
- Types of support e.g. funding, team formation, mentorship, networking
> What should entrepreneurs look out for when joining an incubator?
The Mills Fabrica is a business incubator, fund and space/lab/store for techstyle startups (companies at the intersection of technology and lifestyle) and strategic partners. Fabrica is dedicated to establishing Hong Kong as the best place in the world to build a brand or technology business.
Don't miss out on the extraordinary opportunity to learn and know more about Hong Kong's startup ecosystem!
Register now at https://forms.gle/ytUxwLUWpN4J76B78
Registration closes on Mar 8 so don't be late!
Should you have inquiries, feel free to reach out to us at entrepreneursocietyhku@gmail.com
Hope to see you all at the event!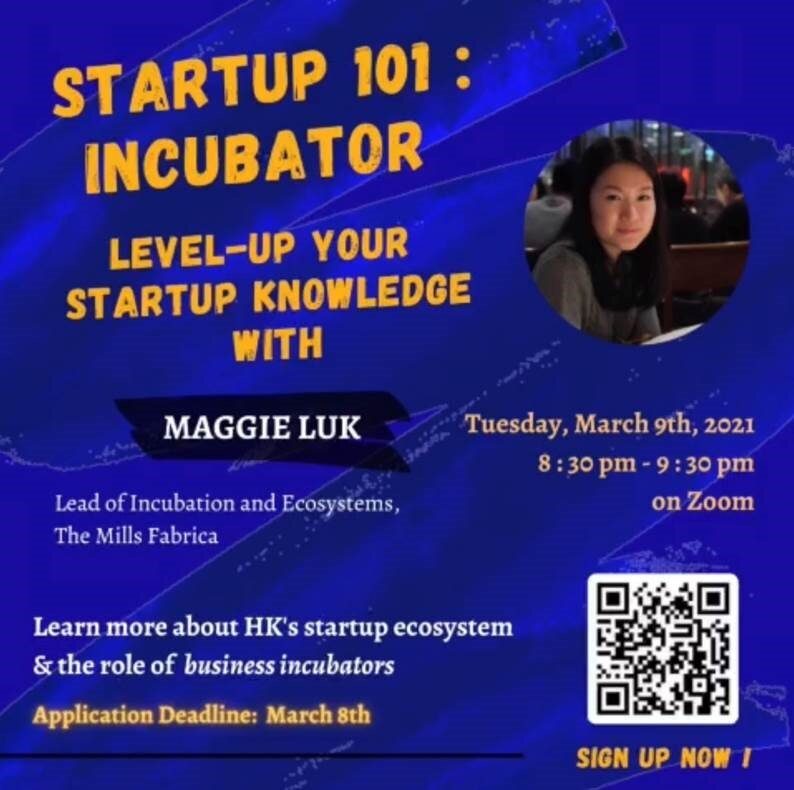 ---
Disclaimer: The data collected through the online application and activities organized are solely administered by Entrepreneur Society@HKU. The School shall not be held liable in the case that disputes, loss or any other situations arise.