Schneider Electric "Global Business Case Challenge - Go Green in the City 2019"
Deadline: 25 May 2019 (Closed)
Schneider Electric is calling for application from FBE UG Year 2 or above students to its Global Business Case Challenge - Go Green in the City 2019 now.
About the Competition
Schneider Electric is leading the Digital Transformation in Energy Management and Automation. Go Green in the City 2019 is the 9th edition of the ultimate global student competition which aims to discover bold, smart and sustainable ideas for the cities of the future.
Target students: Undergraduate Year 2 or above, Master's or MBA students in Business or Engineering from all over the world
Formation of team: Teams of 2, with at least 1 female member (Both must study in the same country for the duration of the competition)
Competition format: Teams are required to submit a case study illustrating their ideas for innovative energy management solutions in cities for 1 of the 4 business topics as listed below:
• Sustainability & Access to Energy
• Buildings of the Future
• Plants of the Future
• Grids of the Future
Prizes and Awards
Global Winner: The winning team will win job offers from Schneider Electric and a trip to 2 of its international offices
Regional Finals: All individual finalists will receive internship interview opportunities at Schneider Electric. The top 8 teams (best project from each region) will be invited on a fully sponsored trip to the Innovation Summit in Spain to present the case challenge solutions in the Grand Finale in October 2019.
Regional Semi-finals: Semi-finalists will receive mentorship from Schneider Electric experts to polish their proposals
Registration method: Interested students please register through this link: http://gogreeninthecity.se.com
Registration deadline: 23:59 (UCT+0), May 25, 2019 (Saturday)
For further information regarding this competition, please visit http://gogreeninthecity.se.com or refer to the BROCHURE.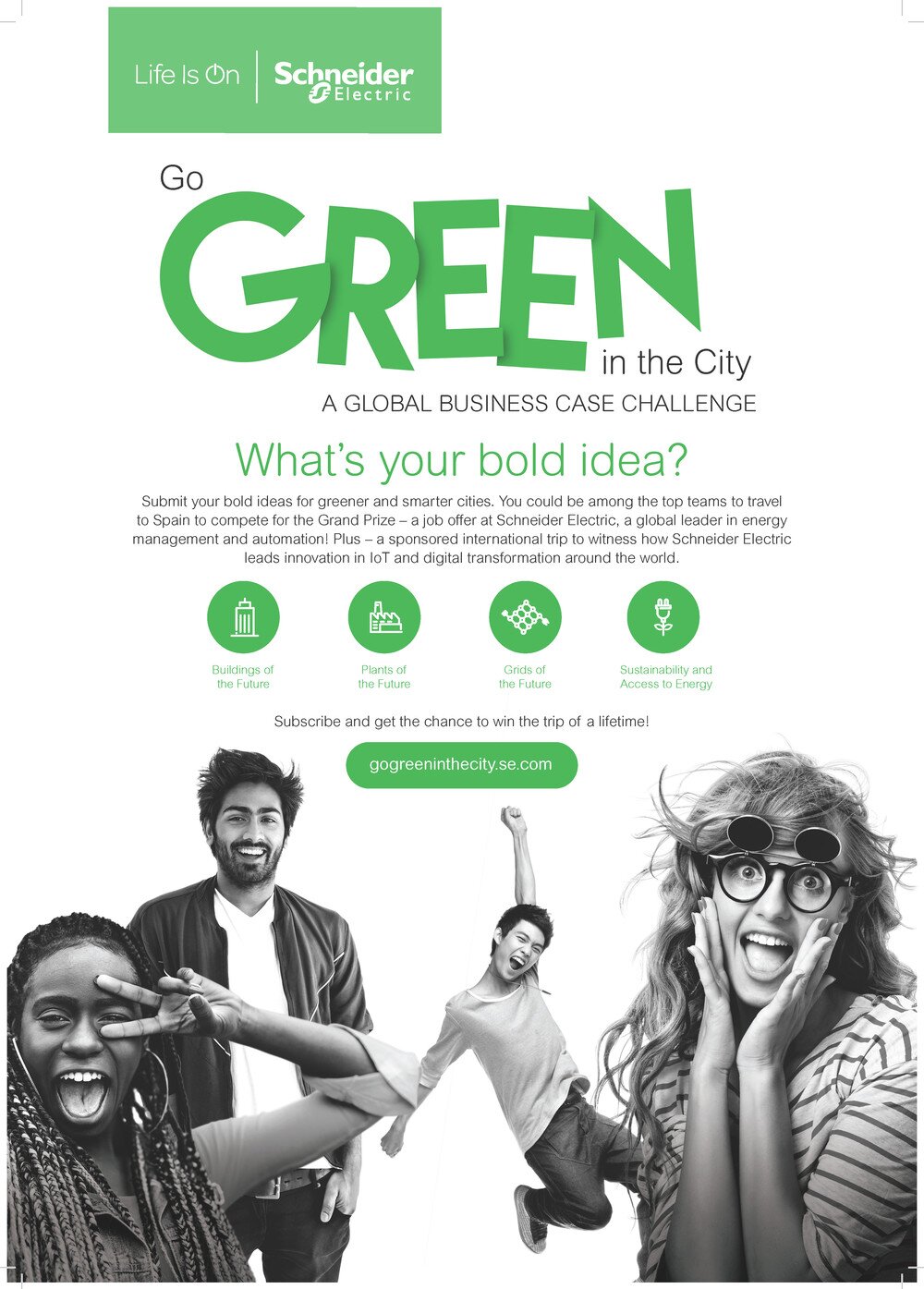 Disclaimer:
1) Please note that student participants of this Competition will be responsible for their own safety while outside Hong Kong (provided that the teams enter the Grand Finale in Spain). Students must pay for all expenses related to the trip and arrange for their own insurance which covers the whole period of stay out of Hong Kong. Our Faculty will not be responsible for any expenses incurred in this competition.
2) The data collected through the online application is solely administered by the organizer. The Faculty shall not be held liable in the case that disputes, loss or any other situations arise.