[Call for Applications] Hack for India
Deadline: 03 Jul 2019 (Closed)
"Hack for India" is calling for applications now.
Hack for India is organised by Indiatech Hong Kong in association with Consul General of India for Hong Kong and Macau. It aims to encourage students and young graduates to come up with business ideas on themes that have an impact on the Indian economy.
The theme for this year is "How Technology can be leveraged to increase education and fill the skills gap". Participating students, enrolling as an individual participants or as teams of up to 4 students, are required to register for the competition before July 3, 2019.
Prize and award for winner:
1. HK$8,000 Cash Prize - Sponsored by Forum for Indian Professionals in Hong Kong (FIPHK);
2. Chance to pitch in front of top VCs at Indiatech HK Pitch Day 2.0 on July 11, 2019 at the sidelines of Rise 2019;
3. Chance to pitch at India-China Summit in Shenzhen on July 12, 2019;
4. Other goodies from supporting partners; and
5. Mentorship opportunities.
You may refer to below poster for details regarding the competition. Interested student should register online at https://indiatechhk.typeform.com/to/Ui6OHbefore July 3, 2019.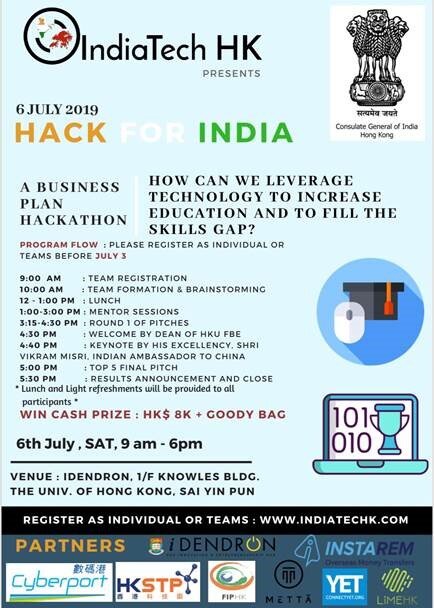 Disclaimer:
1.Our Faculty will not be responsible for any expenses incurred in this Competition.
2.The data collected through the online application is solely administered by the organizer. The Faculty shall not be held liable in the case that disputes, loss or any other situations arise.