Introduction
The Faculty of Business and Economics is pleased to introduce a Student Enrichment Programme "Connectivity in Finance" to all first-year students. This Programme allows students to meet with the industry and explore the business world.
Objective
To allow students to gain fundamental business and financial knowledge
To offer students to get in touch with the industry so as to boost their confidence for their future career development.
Programme Details
Date: March 4-6, 2019 (First 3 days of the Reading Week of the 2nd Semester of 2018-19)
*Exact schedule will be announced later.
Visits and Workshops (To Be Confirmed)
Deutsche Bank AG
Independent Commission Against Corruption Hong Kong (ICAC)
Hong Kong Monetary Authority (HKMA)
EFG Bank Hong Kong
Bank Julius Baer & Co. Ltd.
Amplify Trading – Trading Simulation Training
* Visits and itinerary are subject to change
Eligibility
All Year 1 Students with (i) demonstrated interest in the Asset Management and Private Banking industry; and (ii) outstanding engagement in university life/activities
Application period
Interested students please put in an application via the LINK during this following period.
9:00a.m., October 26, 2018 (Friday) – 12:00nn, November 5, 2018 (Monday)
Late application will NOT be accepted.
Selection Criteria
Selection will be based on a short essay (no more than 300 words) and CV of the applicants. Interview might be required. Only selected candidates will be notified of the results.
Programme fee
A refundable deposit of HK$2,000 has to be paid by student participants. The deposit will be refunded to students upon successful completion of the Programme, inclusive of submission of a Programme-end evaluation and a reflection report. Please note that full attendance to every arranged activity is expected, otherwise refundable deposit will be forfeited.
For any enquiries, please contact Miss Jessica Luk at email: fbe.ugenrichment@hku.hk or phone: (852) 3917 5343.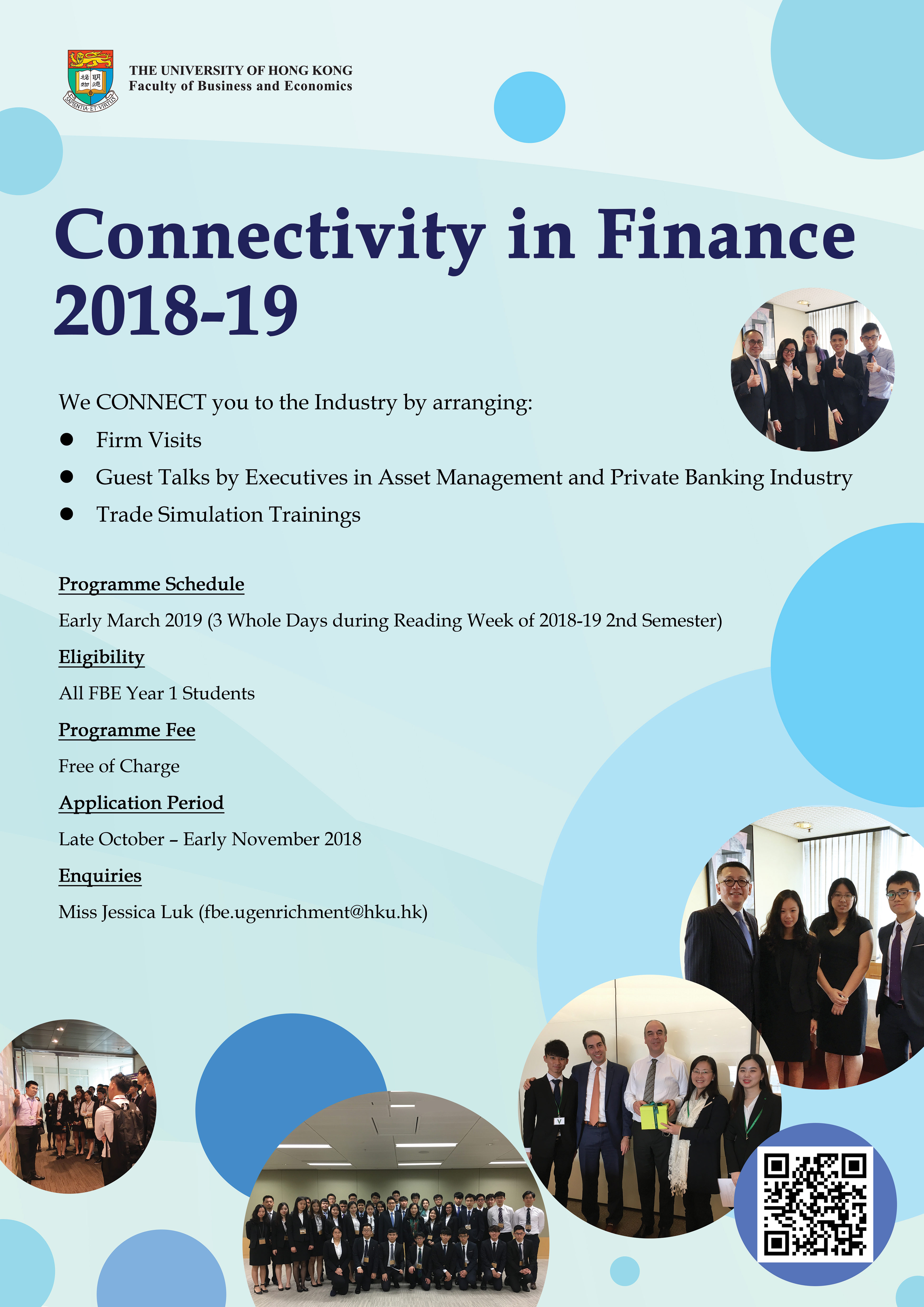 Archive