Enactus HK is recruiting students to join their 2021 Enactus Fall Exploration Program. Please kindly refer to the message below for details. Thank you.
---
[Message from The Eureka Consulting Group, HKU]
Invitation for HKU Students to 2021 Enactus Fall Exploration Program
This year, Enactus HK is going to organize Fall Exploration, which is a seven-day youth engagement program that aims to educate and expose HK's young leaders to the world of social innovation and entrepreneurship. Through insightful workshops, interactive site visits to social enterprises and NGOs, and mingling sessions with our very own Enactus project teams, we hope students can get early, hands-on experiences from global leaders in social innovation.
Below, please find the official poster (as attached) for Fall Exploration, along with event details:
Workshop Dates:

Oct 9: Social Innovation Workshop (Offline and Online)

Oct 11 and 13: Global Exploration Webinars (Online)

Oct 16, 22, and 28: Interactive Site Visits with Mother's Choice, WEDO Global, and Bonham Strand (Offline)

Oct 30: Project Team Mixer (Offline and Online) with Founders of Breer, BamPads!, and Planeteers HK

Duration (per day):

1 to 3 hours

Format:

Face-to-face and virtual (with interactive Q&A sessions)

Language:

English

Target Audience:

University Students

Registration Form:
Registration Deadline:

Oct 8 at 11:59PM HKT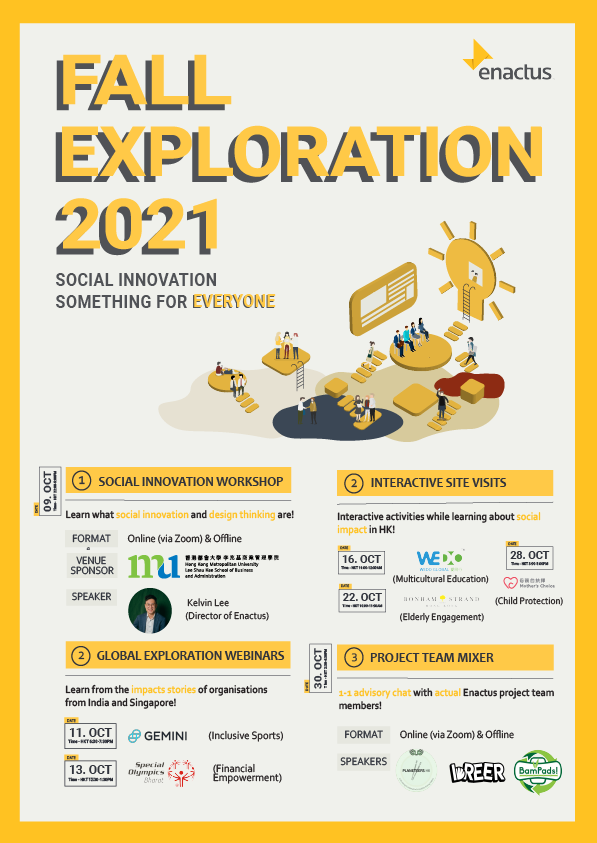 Should you have any inquiries, please contact us via communications@enactus.hk. We are more than willing to provide you with further details. You can also check out @enactushongkong on Instagram. Look forward to seeing you!
About Enactus Hong Kong
Enactus is the world's largest experiential learning platform dedicated to creating a better world while developing the next generation of entrepreneurial leaders and social innovators. We engage the next generation of entrepreneurial leaders to use innovation and business principles to improve the world. Our 72,000 students are entrepreneurial, value-driven social innovators across 1,800 campuses in 35 countries, positively impacting the lives of 1.3 million people each year. Guided by educators and supported by business leaders, teams of students conduct needs assessments in their community, identify potential solutions to complex issues and implement community impact projects. This results in communities benefiting from collaboration and fresh innovation, plus students gain the valuable experience to advance their personal and professional lives.
_______
Enactus HK
Email: team@enactus.hk
Instagram: @enactushongkong
Website: www.enactus.org | www.enactus.hk
ENTREPRENEURIAL
ACTION FOR OTHERS
CREATES A BETTER WORLD FOR
US ALL.
---
Disclaimer:
1) The School will not be responsible for any expenses incurred in the event.
2) The data collected through the online registration is solely administered by the Enactus HK. The School shall not be held liable in the case that disputes, loss or any other situations arise.