The Cross University Student Entrepreneurship Project 2021 is calling for applications now.
Co-organized by student entrepreneurial bodies from The Hong Kong Polytechnic University, The University of Hong Kong and The University of Science and Technology, The Cross University Student Entrepreneurship Project 2021 aims to foster the craftsmanship of students in Hong Kong universities and encourage them to build their own business (regardless of the business size) in order to gain a real time business / leadership experience.
You may refer to the message below for details regarding the project and event details. Interested students should register online by March 31, 2021 (Wednesday).
---
[Message from Entrepreneur Society@HKU]
Cross University Student Entrepreneurship Project:
Opening Ceremony
April 10, 2021 (SAT) | 2:00 PM – 4:00 PM | the BASE, HKUST | English
Do you want to have your own real business practically?
Are you finding talents to start with your business?
Are you looking for a chance to prove your ability?
Cross-Uni Students Entrepreneurial Project 2021 supports and accelerates you to become an entrepreneur now, by providing you with:
1. Networking opportunity
2. Mentorship opportunity
3. Presentation opportunity
4. Co-working office offer
If you cannot access Google, please click HERE.
The application deadline is the March 31, 2021.
Programme
2:00PM – 2:10PM Greeting speech
2:10PM – 2:30PM Ice-Breaking Games
2:30PM – 2:45PM Briefing
2:45PM – 3:00PM Q&A session
3:00PM – 4:00PM Networking session
Language
English
Upcoming activities for you:
1. Design Thinking Workshops: April 24, 2021
2. Biweekly Compulsory Consultation: April 24, 2021
3. Middle-stage Peer Presentation: May 1, 2021
4. Final Presentation: May 30, 2021
5. Closing Ceremony: May 30, 2021 (TBC)
Enquiry
entrepreneursocietyhku@gmail.com
Follow us on Instagram

eso_hku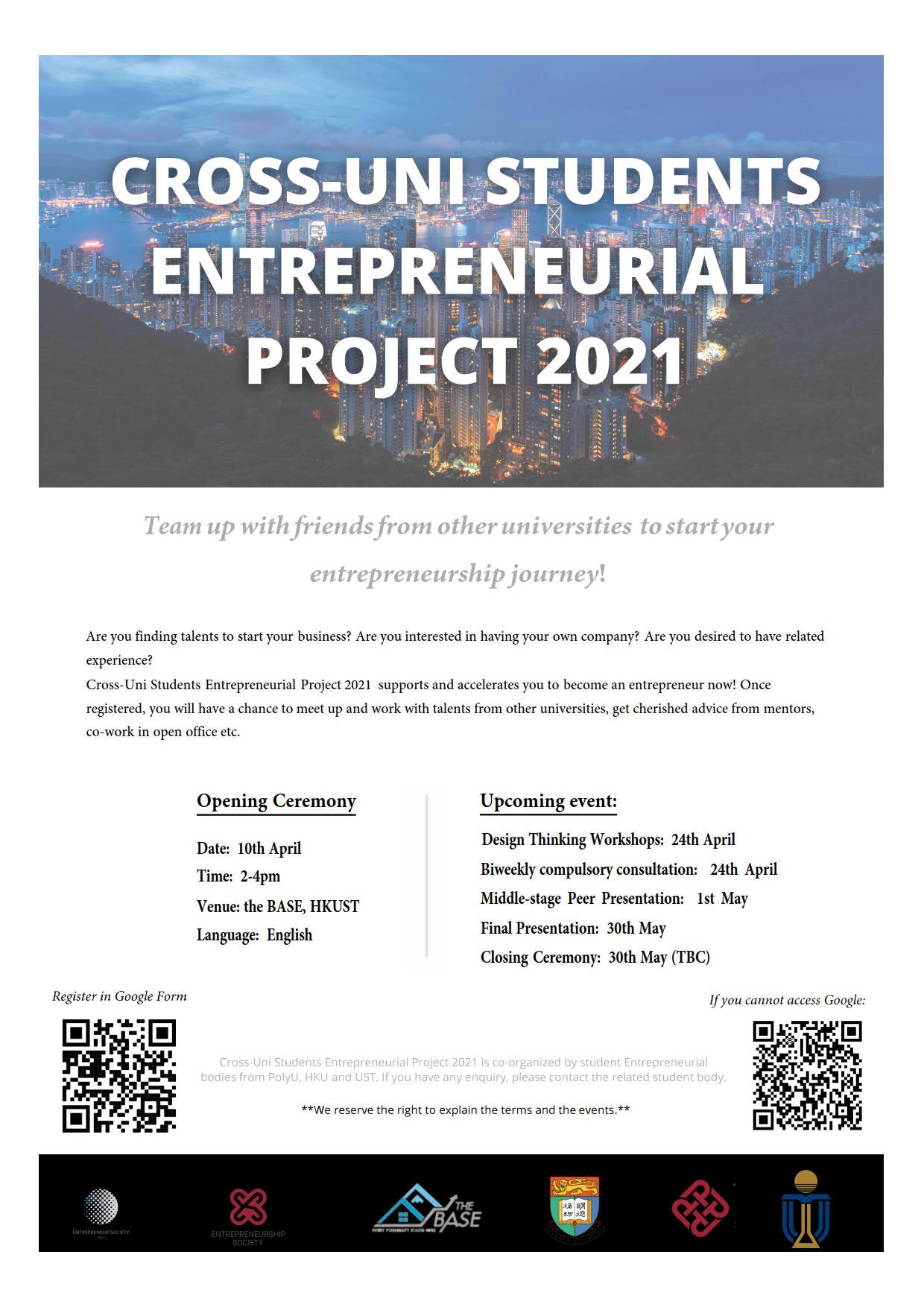 ---
Disclaimer: The data collected through the online application and activities organized are solely administered by Entrepreneur Society@HKU and the co-organizers. The School shall not be held liable in the case that disputes, loss or any other situations arise.