Entrepreneur Society@HKU is organizing their "Journey from the Investee to the Investor - from Startup to VC" event on March 26, 2021.
You may refer to the message below for details regarding the event. Interested students should register online by March 25, 2021 (Thursday).
---
[Message from Entrepreneur Society@HKU]
Entrepreneur Society@HKU continues to bring new opportunities for students to learn and connect talents with the Entrepreneur world. Joining our upcoming event "Journey from the Investee to the Investor - from Startup to VC" to get some insights.
We are honoured to have Kevin Tang, Founder of Kalon Couture and Director of Eunoia Investments as a guest speaker. After completing his degree at London School of Economics and Political Science (LSE), he started Kalon Couture, which is a start-up reinventing fashion e-Commerce with mobile body scan and virtual fitting technology and allowing shoppers to virtually try on clothing with their personal 3D avatars. He also worked as a Director at Eunoia Investments, a private alternative investment advisory firm that provides creative solutions to unusual investment projects.
| | |
| --- | --- |
| Details: | |
| Date: | March 26, 2021 (Friday) |
| Time: | 20:30 - 21:30 |
| Speaker: | Kevin Tang |
| Venue: | Zoom (link to be sent to your email/whatsapp upon registration) |
Topics covered:
- Current state of HK's startup and VC ecosystem
- The difference between startup and VC
- Exit opportunities after working at startups
- And Much More!
Don't miss out on the extraordinary opportunity to learn and know more!
Register now at https://docs.google.com/forms/d/1MaTxm8skyVr1wC0jgmEVMEDHwbDn1ZQVvPHFtOg77NU/edit
Registration closes on March 25, 2021 (Thursday) so don't be late!
Should you have inquiries, feel free to reach out to us at entrepreneursocietyhku@gmail.com
Hope to see you all at the event!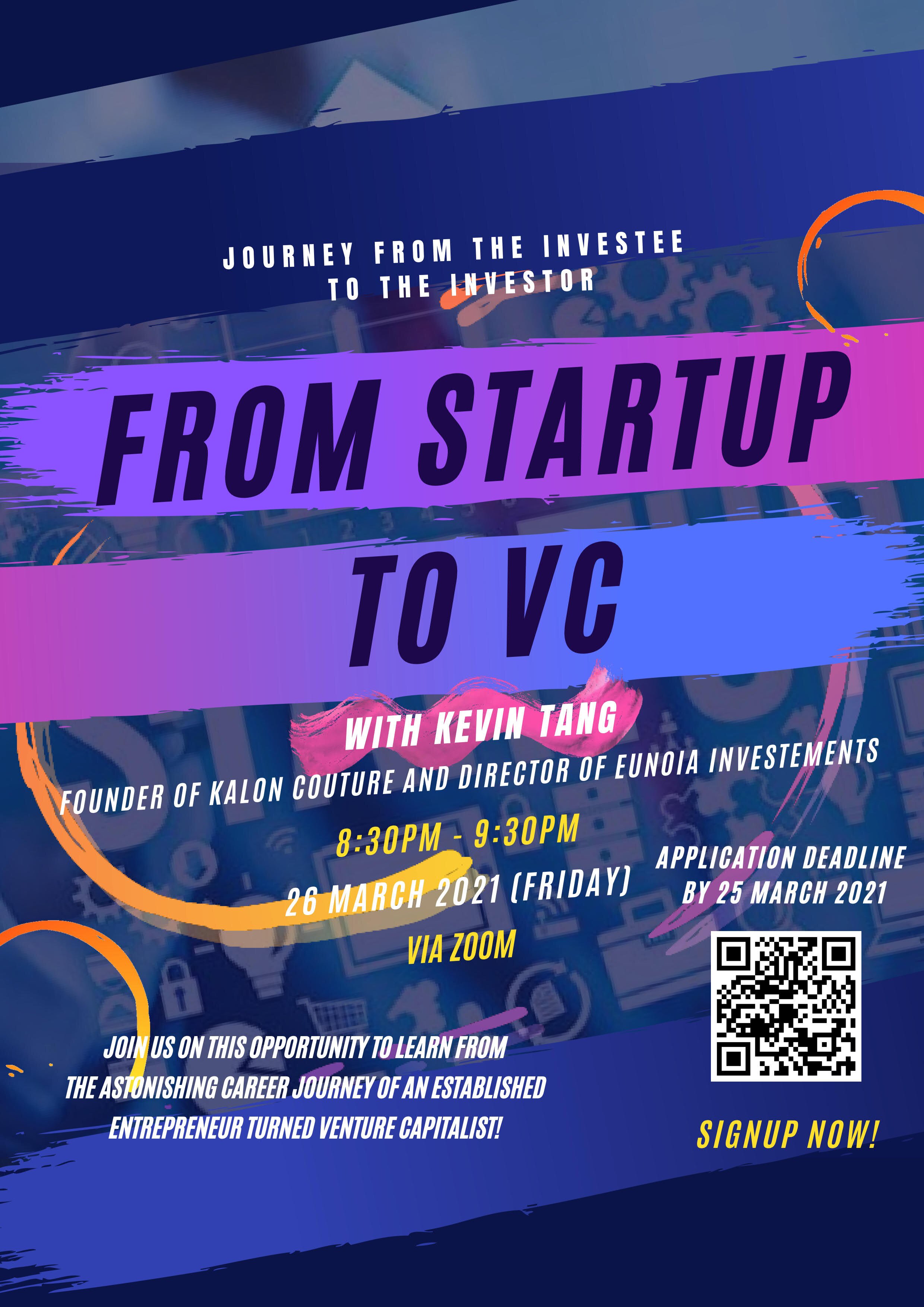 ---
Disclaimer: The data collected through the online application and activities organized are solely administered by Entrepreneur Society@HKU. The School shall not be held liable in the case that disputes, loss or any other situations arise.