The FinTech Society is recruiting student consultants to join their Intact Financial Ltd. and Algogene Ltd. Consulting Project. Please kindly refer to the message below for details. Thank you.
---
[Message from FinTech Society]
To: All UG students,

The Fintech Society is recruiting student consultants to be part of the consulting projects we have been offered by Intact Financial Ltd. and Algogene Ltd. We are accepting applications for the positions now and interested students should submit their application by 11:59 p.m. on March 31, 2021. Please refer below for more information.

Who Are We?

The Fintech Society is a student-led social enterprise, founded at The University of Hong Kong in 2020. We aim to offer undergraduate students of all background knowledge and experience of the Fintech industry. From theory to practice, our vision is to be an all-in-one platform for interested individuals to obtain vocational skills and gain a useful network within the industry.

Who We Are Looking for?

Starting from this semester, we have partnered with reputed firms from across the industry for projects consultation. This would not only offer our student community the opportunity to work on exciting real-world projects, but also allow them to gain hands-on industry experience, under the guidance of experienced and accomplished mentors. The firms onboard this semester are Intact Financial Ltd. and Algogene Ltd.

Intact Financial (HK) Limited

Intact Financial Corporation is the largest home, auto, and business insurance company in Canada. It has its own data science lab which strives to make insurance easier and aspires to be the best insurance AI shop in the world. Their lab is using data and AI to solve challenging real-life insurance problems. (https://intactlab.ca/hong-kong/)

Field and scope of work:

New data sources are emerging as the world becomes more digital. Most businesses now have a web presence on many different online platforms and new types of information have emerged.

Scope:

How can we extract information about businesses' risk characteristics? The first part of the project consists of researching and identifying online data sources that provide information on a specific risk characteristic of Canadian businesses. The second part is to understand and qualitatively describe those identified online risk characteristics. Then, the third part is to find efficient ways to extract the data from the sources identified, so that it can be added to the Intact data pipeline. This information will later be used to optimize our regular operations.

Type of Applicant:
Data science or computer science background

Expected Timeframe: Completed by May

Potential future prospect: Internship


ALGOGENE FINANCIAL TECHNOLOGY COMPANY:

ALGOGENE is an award-winning FinTech company providing one-stop solutions for algorithmic trading. They provide various big data and AI tools to help users invest in a more scientific and automatic way.

Field and Scope of Work:

1. Develop and implement an end-to-end data pipeline for data collection, data management, and data analysis for different financial markets
2. Apply data analysis, modeling, machine learning, to design and develop algorithmic trading tools

Type of Applicant:

- Major in Mathematics, Statistics, Computer Science, Quantitative Finance or related discipline
- Good programing knowledge (eg. Python, Javascript)
- Knowledge in Computational Mathematics (eg. Probability, Optimization, Multivariate Time Series, Stochastic Calculus, etc)
- Preferred hand-on data modeling and machine learning experience (eg. Tensorflow, PyTorch, Natural Language Processing, etc)
- Basic knowledge in a financial product, market, and trade life cycle (eg. FX, Equities, Futures, Options, etc)

Expected Timeframe:

The candidate(s) is expected to work and complete the project within 8-12 weeks during the summer semester break (May - Aug) in 2021.

Potential Future Prospect:

There would be a return offer depending on the satisfaction of the candidate's overall performance in the project.

Application Procedure:

Interested students must fill the following application form (bit.ly/consultant-registration). Round 1 of Applications will close on March 31, 2021; and will be processed on a first-come, first-served basis. After a review of applications, selected candidates will be called for a group interview via zoom.

If required, a personal interview may be conducted.

In case of any queries, please feel free to contact our Head of Talent Management at fintechsochku@gmail.com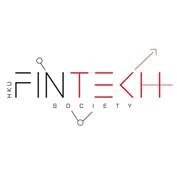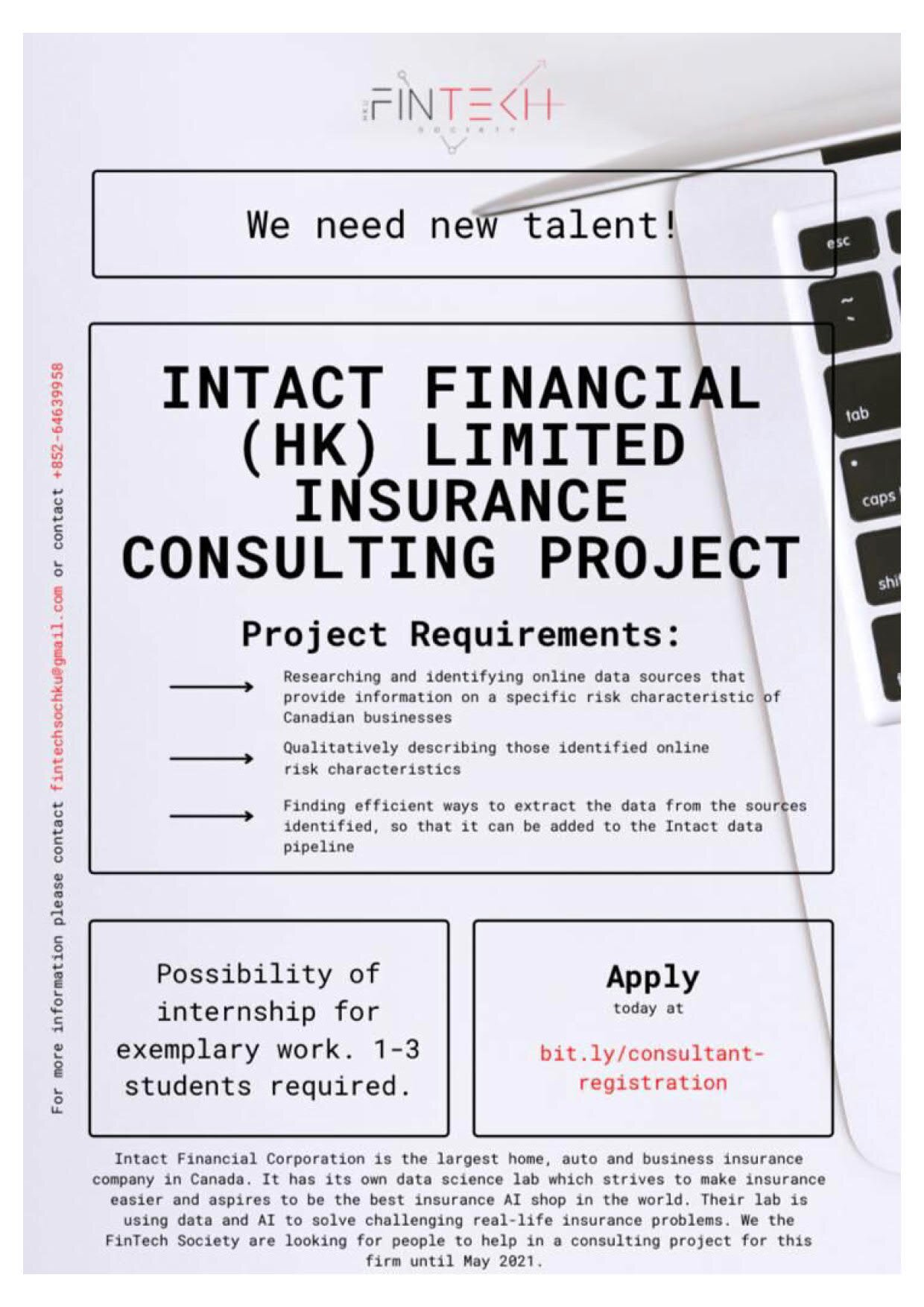 ---
Disclaimer: The data collected through the online application is solely administered by FinTech Society. The School shall not be held liable in the case that disputes, loss or any other situations arise.