HKU Trading Group is recruiting student members. Please kindly refer to the message below for details. Thank you.
---
[Message from HKU Trading Group]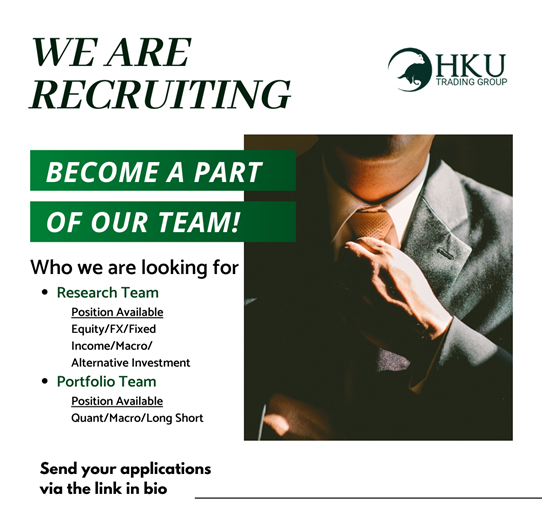 HKU Trading Group aims to inspire and motivate our members about a career in trading and financial markets, spread interest in trading and investment banking in the HKU community, and enhance the chances for our members to pursue a career in trading and financial markets.
Who We Look For:
Research Team (Position Available: Equity/FX/Fixed Income/Macro/Alternative Investment)
- Research securities of target industries and companies to provide investment recommendations
- Develop and write research reports and publications to be presented to our audience
- Build financial models, including charts and dashboards creation
- Formulate market views, forecasts and recommendations on both asset and industry sector allocations for every major market.
Portfolio Team (Position Available: Quant/Macro/Long Short)
- Involved in portfolio management of our fund
- Build algorithms strategies
- Work along with researchers to improve trading strategies
- Recording and report trade tracks
- Regularly monitoring portfolios
Registration link:
https://docs.google.com/forms/d/e/1FAIpQLScjXmeDcoX5xr83P35qtYLpa2THKbwhz36W7dXciRPu5SLUKg/viewform?usp=sf_link
Regards,
Founders of HKU Trading Group
---
Disclaimer: The data collected through the online application and activities organized are solely administered by HKU Trading Group. The School shall not be held liable in the case that disputes, loss or any other situations arise.