ShARE x HKU Consulting's Virtual Training Series 3 is calling for participation now.
You may refer to the message below for details regarding the training. Interested students should register online by February 26, 2021 (Friday).
---
[Message from ShARE x HKU Consulting]
Dear Consultants-to-be,
Don't miss the latest Virtual Training Series 3 on Fintech, Innovation and Entrepreneurship on February 26 (Friday), from 7:30 to 8:30 p.m.!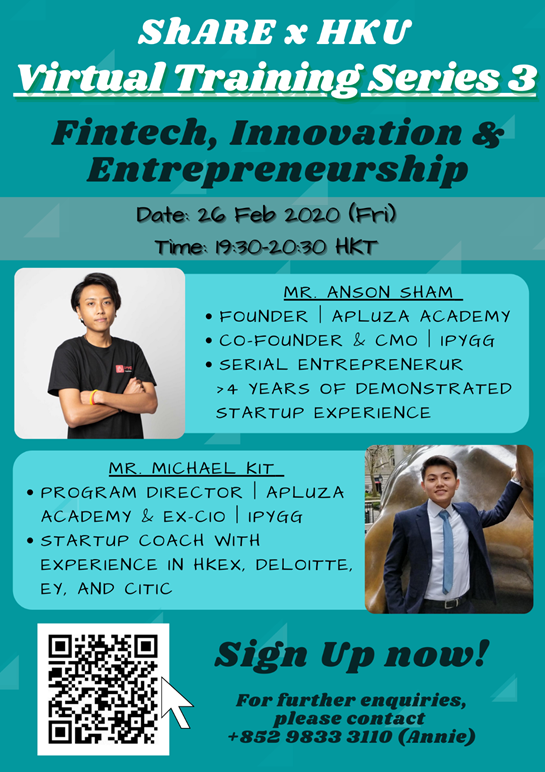 This virtual training series features:
- Serial entrepreneur Mr. Anson Sham who has over 4 years of demonstrated startup experience. He has founded two successful start-ups at the age of 23, with a strong vision to provide new high value-driven technologies for clients and for society; and
- Startup Coach Mr. Michael Kit who has worked at several corporations in finance roles, including HKEX, Deloitte, EY, and CITIC.
After the panel discussion, there will then be a virtual networking session with both speakers.
Theme: Fintech, Innovation and Entrepreneurship
Date: February 26, 2021 (Fri)
Time: 7:30-8:30 p.m.
Registration Link: https://hku.zoom.us/meeting/register/tJcqd-uorjoiEtH3cQrBm4Kmpl1AsGJOr4mr
Mind you, these sessions won't be available again until next school year. So SECURE YOUR PLACE!
We look forward to seeing you there!
Best Regards,
_______
Annie Lui
Co-president, Consulting
ShARE x HKU Consulting
Phone: +852 98333110
Email: shareconsulting.hku@gmail.com
Website: Linkedin | Facebook | Instagram
---
Disclaimer: The data collected through the online application and activities organized are solely administered by ShARE x HKU Consulting. The School shall not be held liable in the case that disputes, loss or any other situations arise.