HKU Women in Finance is organizing a career talk on March 5, 2021.
You may refer to the message below for details regarding this event. Interested students should apply online by March 3, 2021 (Wednesday).
---
[Message from HKU Women in Finance]
Dear students,
In the increasingly globalised and competitive finance industry in Hong Kong, many of us feel deluded and lost with the influx of information available to us. There are limitless ways to advance our careers in the finance world, but skill and talent alone are not enough to sustain us in motivation and inspiration.
Talking to individuals with expertise and wisdom would widen our perspectives and produce deeper insight. We might find the golden nuggets of wisdom we never knew we needed.
Christine Ip, the CEO of United Overseas Bank (UOB), has decades of experience in the finance industry, spanning banking, mobile and internet banking, asset management, digital channels, and credit risk. Her vitality and sharp wisdom have earned her accolades and recognition in the finance industry. Most importantly, Christine is also a proud HKU alumnus, with plenty to share regarding the development of her career from an undergraduate at HKU to the various positions she has held within numerous financial institutions.
So, mark your calendar for March 5, where you'll be able to gain valuable insight and knowledge through Christine's decades of experience in the finance industry.
Date: March 5, 2021 (Friday)
Time: 5:30-6:30 p.m. HKT
Venue: Zoom
Registration Link: https://forms.gle/PFCQpi89k5wZJBx88
Registration Deadline: March 3, 2021 (first-come-first-served basis)
Please refer to the flyer for more details. For further queries, feel free to contact us at hku.wif@gmail.com or follow us on @hku.wif on instagram.
Thank you!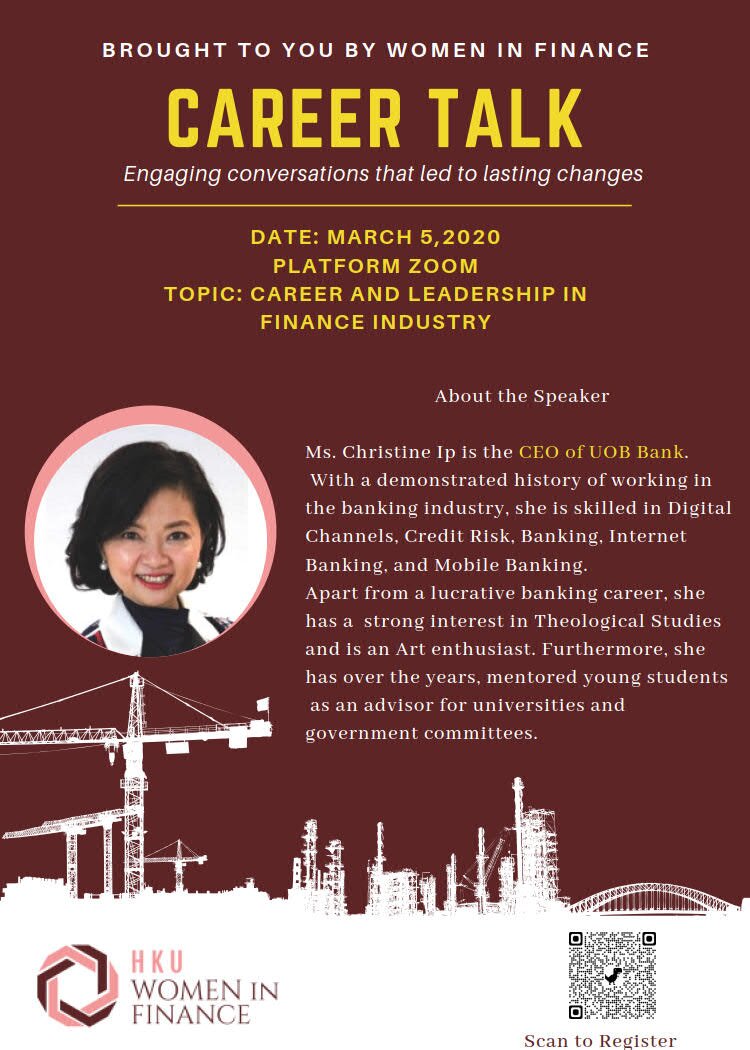 Kind regards,
HKU Women in Finance

---
Disclaimer: The data collected through the online application and activities organized are solely administered by HKU Women in Finance. The School shall not be held liable in the case that disputes, loss or any other situations arise.