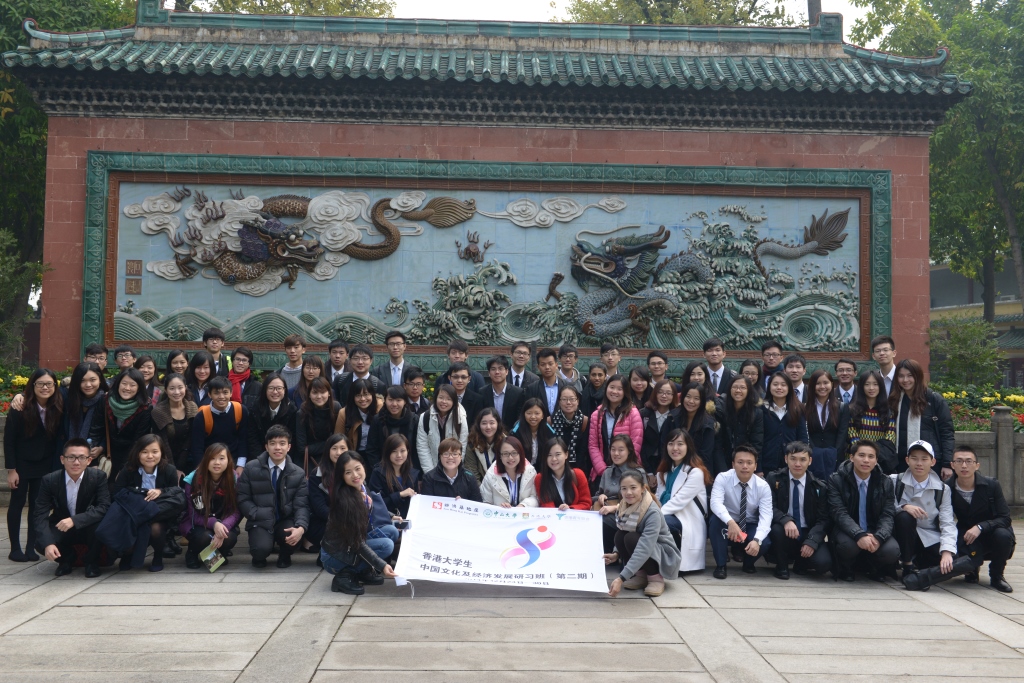 INTRODUCTION
China's economy has an unprecedented impact on the global economic development. This programme offers a precious opportunity for students to have a glimpse of today's China and its economic situation through a series of workshops and site visits.
OBJECTIVES
To enhance students' understanding of the social, political and economic development in the Mainland China.
To allow students gain all-rounded perspectives on the business culture and practices in China through a series of workshops and site visits.
PROGRAMME DETAILS
Date: 4-10 January 2016
Topics of workshops include
Pearl River Delta economic integration and co-operation between Guangdong and Hong Kong
Chinese contemporary political and economic development
Economic crisis and financial bubble
Guangzhou development forum: understanding social change in Mainland China from the perspective of rural reconstruction
The Study Tour includes visits to the Pearl River, Foshan, Nansha, Yongxing, Whampoa Military Academy, Guangzhou Higher Education Mega Center and other cultural and historical sites. All activities will be conducted in Mandarin.
(Topics and itinerary are subject to fine-tuning)
Programme fee
All programme fees will be sponsored by the organisers. A refundable deposit of HK$1,000 has to be paid by student participants. The deposit will be refunded to students, upon completion of the programme, including a submission of an essay written in Chinese and English.
Application period
9:00 a.m. 29 October 2015 (Thursday) – 5:00 p.m. 9 November 2015 (Monday)
Eligibility
All FBE students
Students with the following attributes:
o Passion to understand China and interested to work in China in future;
o Open and critical mindset;
o Basic level of Mandarin and Cantonese
*Shortlisted students will be invited to the group interview held in late November.
Post-event sharing from student participants of 2014
"These few days had been impressive and rewarding. We have explored on Chinese culture, politics and economics through various activities, including but not limited to lectures, firm visits, site visits and sightseeing. The tour was perfectly arranged with tight schedule, making it a fruitful trip in every aspect, which provided me an opportunity to witness China's development in my own eyes and exchange ideas with brilliant students."
Miss TSE Ho-ying Coco, BBA(Acc&Fin) Year 3
"The China Economic Development Study Tour was absolutely rewarding and meaningful. It was not merely an opportunity to gain knowledge in lectures, but also a valuable chance to make new friends from the Sun-Yat Sen University."
Mr. CHAN Ching Ho, BSc(QFin) Year 4
"The days in this economic tour have passed a lot quicker than I have expected – it is as if it was yesterday that my group mates and I met at the pier and began our journey to Guangzhou. As the first exchange experience I have since the start of my university life, this economic tour is definitely a memorable one."
Miss CHAN Wing Hang Avis, BBA(IBGM) Year 2
"During the tour, I was provided with a great deal of opportunities to understand the most recent development in China comprehensively, in various perspectives of economy, culture and politics. Most importantly, accompanying different lectures of prestigious speakers from various fields, a multitude of field trips to, say, the CBD of Guangzhou, production site of tunnel drilling equipment, economic development zone of Nansha and so on kept broadening my horizons. This trip brought a far-reaching impact to me."
Mr. TUNG Tin Ho, BEcon&Fin Year 4