HKU Trading Group is recruiting student members. Please kindly refer to the message below for details. Thank you.
---
[Message from HKU Trading Group]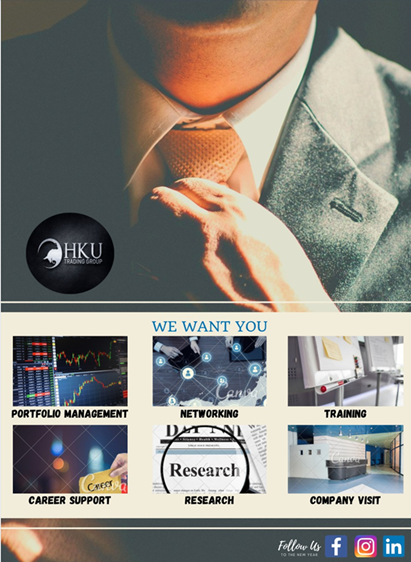 HKU Trading Group aims to inspire and motivate our members about a career in trading and financial markets, spread interest in trading and investment banking in the HKU community, and to enhance the chances for our member to pursue a career in trading and financial markets.
What We Do:
From hosting guest speakers, workshops and training sessions to organizing the simulated trading contest and stock pitch competition, we look to improve the quality of HKU's undergraduate recruitment in the Investment Banking, Asset Management, Hedge Fund and Financial industry.
One of our flagship projects in the coming year will be the establishment of our own student-managed Investment Fund. It will be started with a simulated fund portfolio tracking real-time market data which enables us to practice our stock-picking and trading strategies.
Our regular meetings include discussion on current market news, reviewing trading strategies in both fundamental and technical ways. Through this fund, we endeavour to expose our members to the markets, develop their quantitative and analytical thinking and equip them with the skills and knowledge necessary to succeed in the trading and banking industry.
Who We Look For:
While our society has a clear focus on the financial industry, we would like to emphasize that we are open to all students at the University of Hong Kong regardless of your degree type.
Member Types:
Member
Received the newsletter of market updates and summaries
Access to our research report
Portfolio and Research team application
Networking events
Industry insight workshop
Mentorship program
Career building workshops (CV clinic, Cover letter advice, etc)
Portfolio Team (Exclusive to members)
Involved in portfolio management of our fund
Build algorithms strategies
Work along with quantitative researchers to improve trading strategies
Recording and report trade tracks
Regularly monitoring portfolios
Research Team (Exclusive to members)
Keep abreast with changes in the financial market
Prepare investigative reports on securities or assets across various sectors
Prepare research report for monthly publication to members
Registration link: https://forms.gle/FUifPmNyWg8yzirdA
Official Website: hkutrading.com
Linkedin Page: https://www.linkedin.com/company/hku-trading-group/
Instagram Page: https://instagram.com/hkutrading?igshid=1pyr9vocmd09r
Regards,
Founders of HKU Trading Group
---
Disclaimer: The data collected through the online application and activities organized are solely administered by HKU Trading Group. The School shall not be held liable in the case that disputes, loss or any other situations arise.