ShARE x HKU Consulting's Virtual Training Sessions (Oct - Nov) is calling for participation now.
You may refer to the message below for details regarding the training. Interested students should register online by October 3, 2020.
---
[Message from ShARE x HKU Consulting]
Dear Consultants-to-be,
Greetings from ShARE x HKU again, a young chapter of a prestigious organization in need of your FRESH tint awaits!
During the class suspension period, we continue to provide students with learning experiences digitally and support students' learning on work readiness through sharing from seasoned business leaders.
Virtual Training Series 1 - Venture into the Unknown
In the upcoming few weeks, we still have 3 more sessions to go, with the following seasoned business leaders sharing with us their insights on B2B Branding Strategy, Greater China Financial Market Outlook and of course Innovative Consulting!
Theme: Greater China Region's Financial Markets & Economies
Speaker: Mr. Peter Lewis from Peter Lewis Consulting (China) Limited, Presenter of "Money Talk" on RTHK Radio 3
Date: 7 Oct (Wed)
Time: 1-2:30 pm
Theme: Breaking into Innovation Consulting: What to Expect and Where to Look
Speaker: Mr. Przemek Czerklewicz from Good Goes Viral, Strategy and innovation Consultant
Date: 13 Oct (Tue)
Time: 7-8:30 pm
Theme: B2B Demand Generation in the New Normal
Speaker: Ms. Michelle Anderson from Lemons & Honey
Date: 27 Oct (Tue)
Time: 8-9 pm
Mind you, these sessions won't be available again until next school year. So grab your seats NOW in the link below!
https://forms.gle/PGjA1gaxvWHggrp98
[NEW!] Virtual Training Series 2 - Crafting your CSV Journey
Creating Shared Value (CSV) is an emerging business concept for companies to do business, the term CSV is the practice of creating economic value for the company itself in a way that also creates value for society by addressing its needs and challenges.
Our 2nd Training Series is an exciting event where you can learn about the importance of CSV and mingle with top talents at New World Development. The event includes a workshop session on CSV alongside sharing sessions with various talents at New World Development.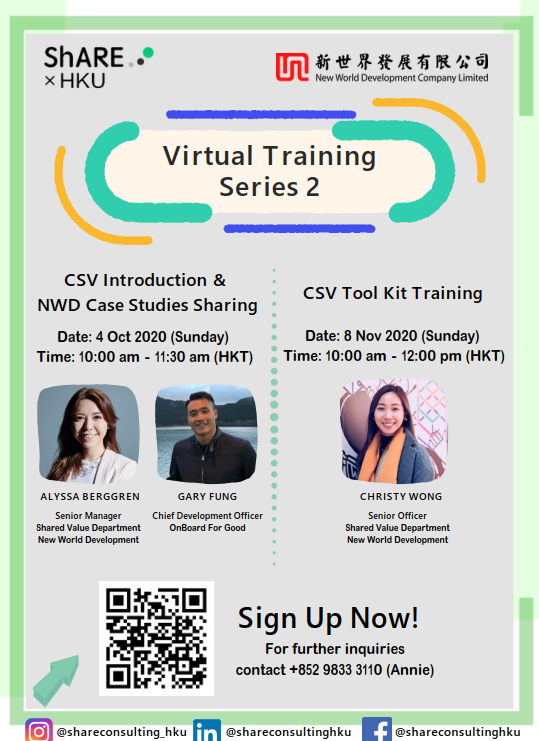 Register now at https://forms.gle/6PxEui1pJazxZ8328. We look forward to seeing you soon!
Updating Personal Information & Communication Channels
In addition, I would love to invite you to join our WhatsApp Group to stay updated on our latest news and reminders of our program.
Please also make sure you have followed our Social Media Channels to check out our future events! We look forward to seeing you in our upcoming activities.
Linkedin: https://www.linkedin.com/company/sharehku
Facebook: https://www.facebook.com/Share-Consulting-HKU-1875521286078742/
Instagram: https://www.instagram.com/shareconsulting_hku
Website: https://www.share-share.org/
Best Regards,
_______
Annie Lui
Co-president, Consulting
ShARE x HKU Consulting
Phone: +852 98333110
Email: shareconsulting.hku@gmail.com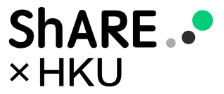 ---
Disclaimer: The data collected through the online application and activities organized are solely administered by ShARE x HKU Consulting. The School shall not be held liable in the case that disputes, loss or any other situations arise.