HKU Women in Finance is hosting their first career talk of the academic year 2020-21.
You may refer to the below message from HKU Women in Finance for details regarding this event. Interested students should apply online by October 11, 2020.
---
[Message from HKU Women in Finance]
Dear students,
Welcome to our society!
We, HKU Women in Finance (WIF), aim to promote gender equality in the finance industry by empowering students and equipping them with the necessary skills to unleash their potential in this growing industry; while also emphasising the importance of networking.
We're organising our first online career talk with guest speaker, Ms Connie Au (Director and Marketing Specialist at Julius Baer).
Ms Au has over 20 years of experience in brand management, product marketing, corporate communications and public relations in international financial institutions. Previously she has also worked as a branding consultant for other charity organisations and is currently participating in the Women in Finance Asia (WiFA) Mentor Mentee Programme and acting as Marketing Lead for WiFA.
Through this talk, she will share her personal journey as a woman in the finance industry, the challenges she faced and how she tackled them.
Date: October 12, 2020
Time: 6:30 - 7:30 p.m. HKT
Mode: Online
Interested students should sign up here by 11:59 p.m. HKT on October 11, 2020.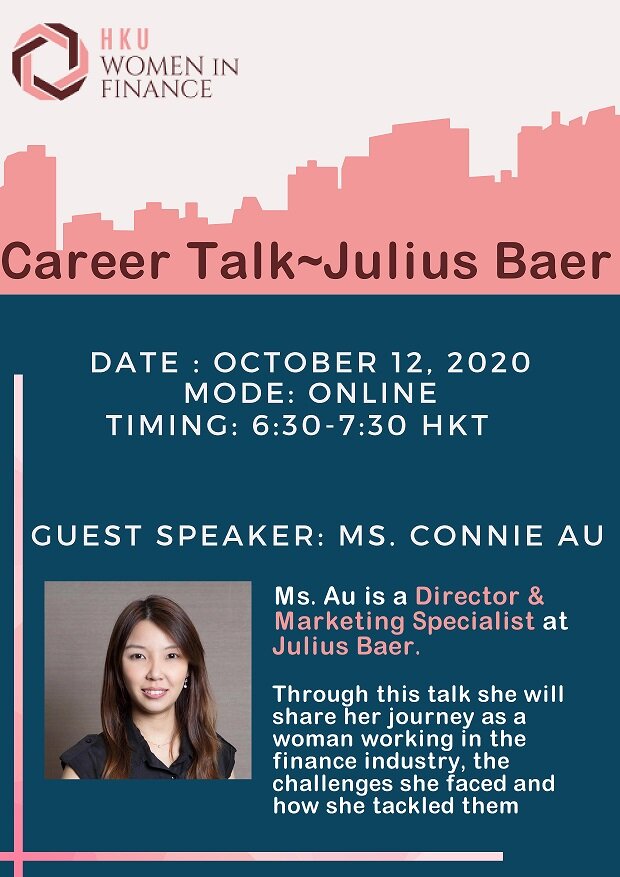 More details and the link to the talk will be sent once you register.
Thank you!
Kind regards,
HKU Women in Finance
---
Disclaimer: The data collected through the online application and activities organized are solely administered by HKU Women in Finance. The School shall not be held liable in the case that disputes, loss or any other situations arise.