MonsoonSIM Enterprise Resource Management Competition 2022
Deadline: 18 Mar 2022 HKT23:59 (Closed)
To: All UG students
MonsoonSIM Enterprise Resource Management Competition (MERMC) 2022 is calling for registration.
About the Competition
MERMC is an annual competition hosted by MonsoonSIM and its partners. The theme for this year is "ESG Application in Life". Students in teams of 4 - 5 students from the same university will be asked to run virtual companies collaboratively (with different departments like Finance, Retailing, B2B, Marketing, E-Commerce, Manufacturing, Human Resource, Logistics, R&D, etc.) to compete against one another for the highest business KPI targets. Winning teams of MERMC (HK Round) 2022 will be considered to represent Hong Kong to participate in the MERMC (International Round) to compete with teams from overseas countries.
Competition Schedule
| | |
| --- | --- |
| Training Practice | March 21 – April 30, 2022 |
| Additional Practice Session | June 1 – 17, 2022 |
| MERMC (HK Round) Semi Final | June 18, 2022 (Sat), 9:30a.m. – 6:00 p.m. |
| MERMC (HK Round) Grand Final | June 25, 2022 (Sat), 9:30a.m. – 6:00 p.m. |
| MERMC (International Round) | November 2022 |
Experience Workshops
In order to allow students to learn more about the competition and experience using the MonsoonSIM business simulation platform before joining the competition, experiential workshops will be arranged from February 11 – March 16. You may choose more than one section from the available timeslots in the online registration link.
HKU students are highly recommended to join the workshop from 9 – 10:30 p.m. on Feb 23 (Wed) to get the chance to team up with like-minded peers.
Interest students (for either the competition or experiential workshops) should register HEREon or before March 18, 2022 (Friday).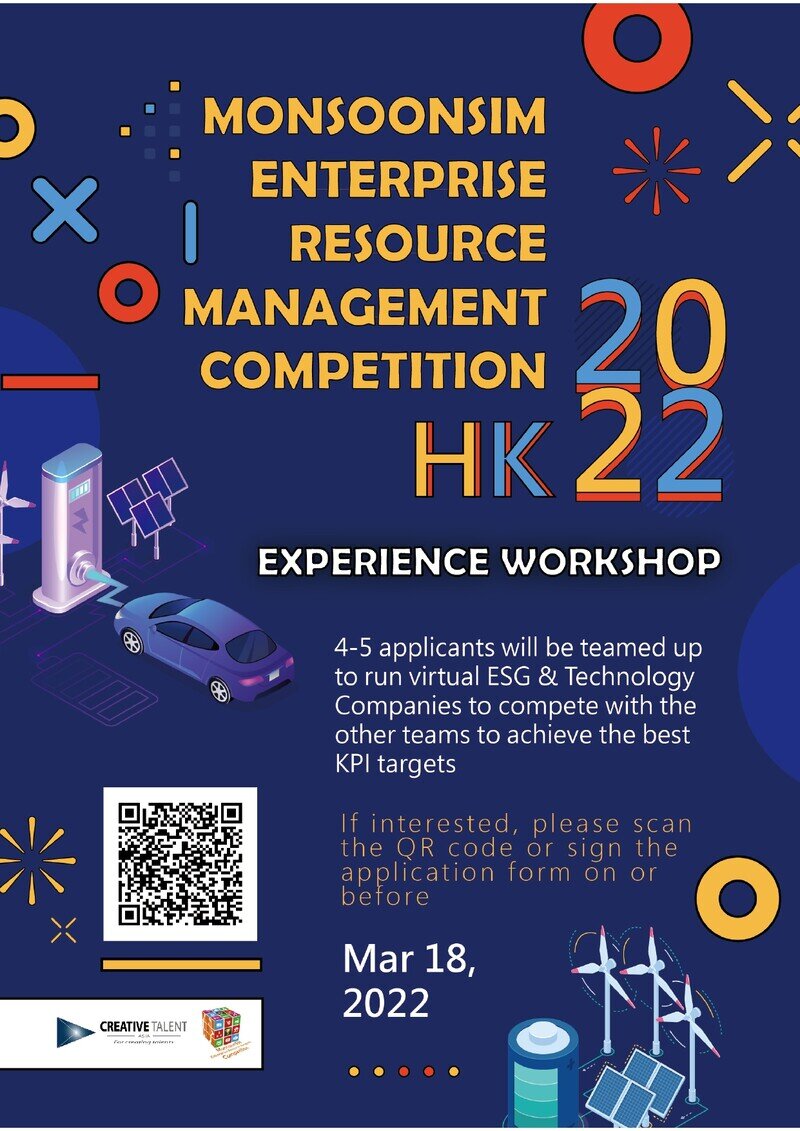 ---
Disclaimer:
1) The School will not be responsible for any expenses incurred in the Competition.
2) The data collected through the online registration is solely administered by the organizer. The School shall not be held liable in the case that disputes, loss or any other situations arise.