A.I. Future Tense – Pitching InnoTech Solutions
Deadline: 30 Jul 2021 (Closed)
The A.I. Future Tense – Pitching InnoTech Solution, organized by the Hong Kong Federation of Youth Groups, encourages students to develop and deliver innovative ideas to solve social problems. The programme also serves as a platform for interaction between participants and InnoTech industry professionals.
Please kindly refer to the eDM below for details. Interested students should submit an application together with the proposal and video by July 30, 2021 (Friday).
---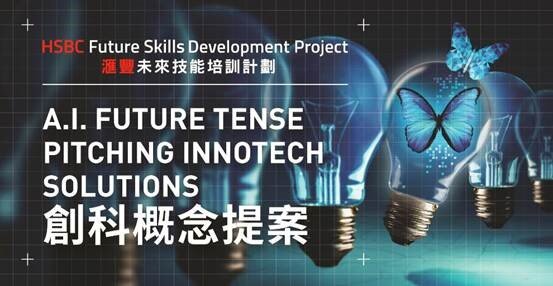 A.I. Future Tense – Pitching InnoTech Solutions (Tertiary Students)
Have lots of innovative ideas on your mind? Are you curious to find out if your ideas work in market or not? Team up with tertiary students to join Pitching InnoTech Solutions. If your ideas are innovative, feasible and positively impact the society, you may win up to $80,000 cash prize. Challenge yourself, think bigger!
Activity details
Introduction: Pitching InnoTech Solutions encourages students to generate innotech solution to tackle social issues. Teams are required to submit a 2-page proposal to introduce their project ideas. Ten shortlisted teams will enter final and pitch their project to industry professionals. Outstanding teams will receive cash rewards to execute their projects.
Target: Students currently studying in Hong Kong tertiary institutes
Team size: 1-8
Prize:
Champion: HKD$80000 (1 team)
1st runner-up: HKD$40000 (1 team)
2nd runner-up: HKD$20000 (1 team)
Merit Prize: HKD$3000 (7 teams)
Video Awards: HKD$3000 (3 teams)
Video Awards include Most Creative, Most Feasible and Best Video Shooting
Important dates:
Proposal and video submission deadline: July 30, 2021 (Fri)
Pitching final: September 18, 2021 (Sat)
Online talk and briefing sessions:
A) Apr 30, 2021 (Fri) 16:00-17:00 Zoom (Topic: Artificial Intelligence)
B) May 18, 2021 (Tue) 10:00-11:00 Zoom (Topic: Quantum Computing)
Please refer to website for online briefings on other topics.
Briefing session registration: http://bit.ly/fspitching_briefing
Programme Details:https://bit.ly/3fYjTDk
Enquiries:fs_innotech@hkfyg.org.hk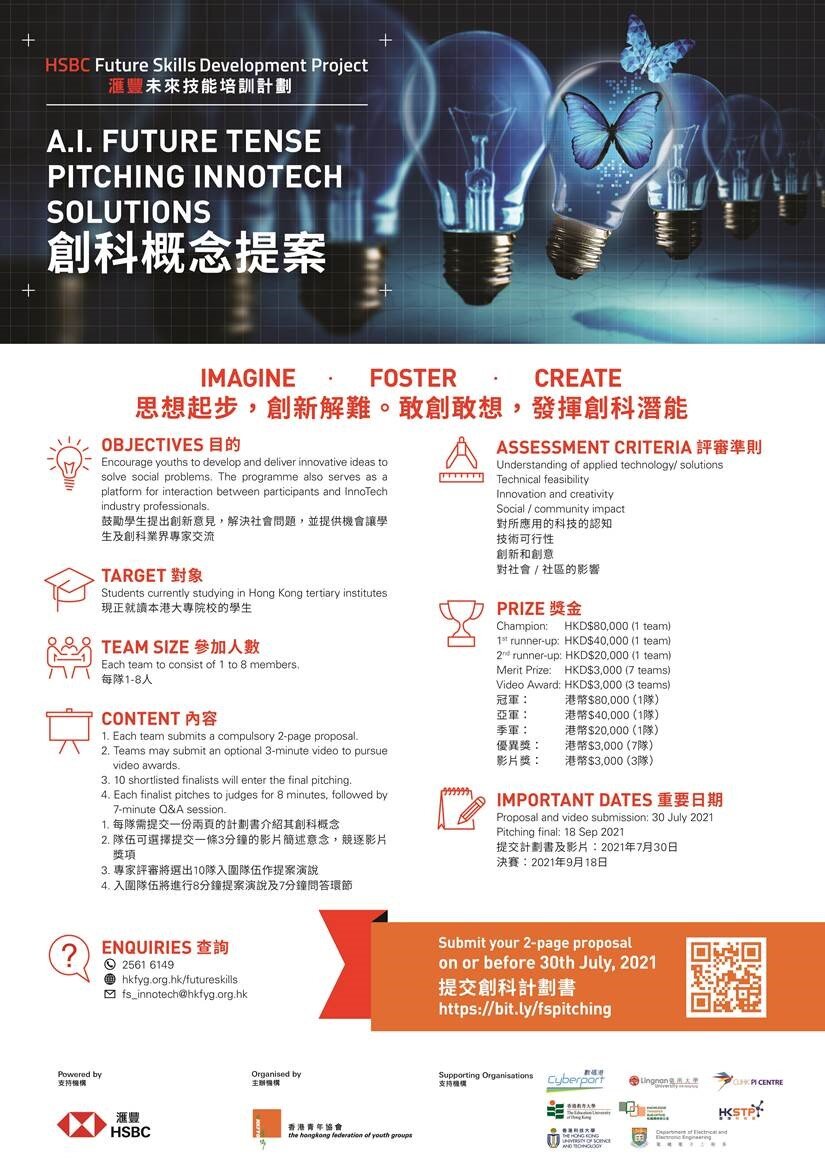 ---
Disclaimer:
1. Our School will not be responsible for any expenses incurred in this Competition.
2. The data collected through the online application is solely administered by the organizer. The School shall not be held liable in the case that disputes, loss or any other situations arise.