2022 International Macro Business Simulation
Deadline: 06 Mar 2022 HKT23:59 (Closed)
To: All UG students
2022 International Macro Business Simulation is calling for registration.
About the Competition
2022 International Macro Business Simulation aims to provide students with the edge to broaden their business acumen, critical thinking and competitiveness in the community through experiential learning experience of Business Management Simulation.
The competition is mainly open to undergraduate students from the Guangdong-Hong Kong-Macao Greater Bay Area and overseas. Students in teams of 4 – 5 players from the same university will participate in virtual business cases through Marco Business Simulation (MBS). Five online workshops will be arranged for students to practice MBS simulation prior to the competition. Top 5 teams who achieve the highest scores through multiple rounds of simulation game will have the opportunity to present to the panel of judges on June 11, 2022.
MBS Introduction Video: https://www.youtube.com/watch?v=awyR76ctMXk
Competition Schedule
Please refer to below flyer or information deck for more details. Interested students should form a team of 4 to 5 members (with team name) and register HEREon or before March 6, 2022 (Sunday).
Confirmation with workshop schedule and manual will be provided by the organizer in separate email after registration. Please note that each team is required to submit a team photo (1600 x 800 pixel in 72dpi; ~5Mb) to the organizer upon further instruction.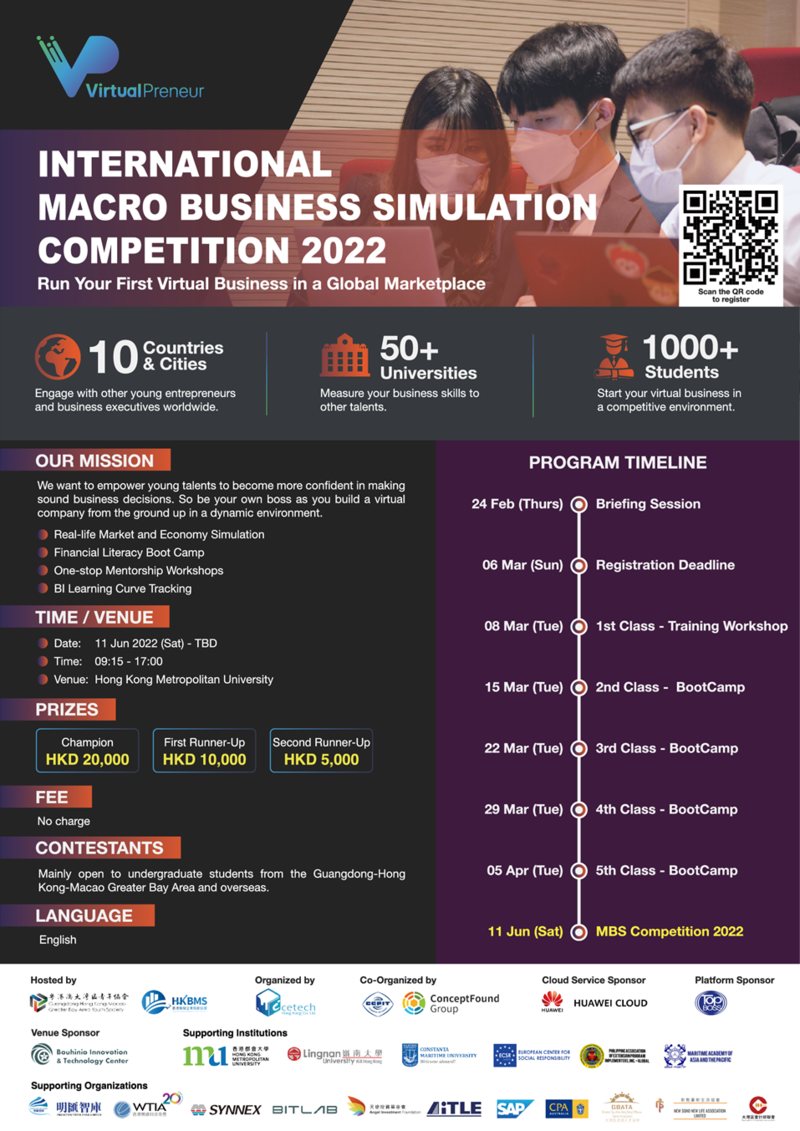 ---
Disclaimer:
1) The School will not be responsible for any expenses incurred in the Competition.
2) The data collected through the online registration is solely administered by the organizer. The School shall not be held liable in the case that disputes, loss or any other situations arise.