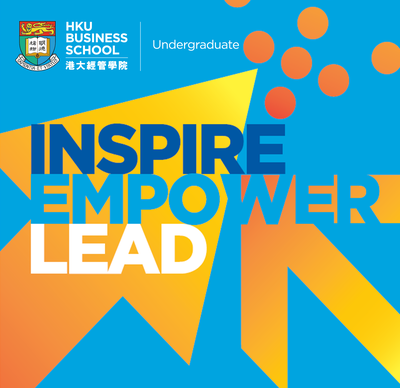 Student Enrichment@HKU Business School
HKU Business School encourages students to initiate and act upon ideas, both within the campus and beyond, as it is this real world interaction that makes us unique. Outside classroom learning experiences beyond the realm of academia help students gain appreciation for social interaction, cultural diversity and intellectual collaboration, which contributes to their personal, interpersonal and social development as global citizens, lifelong learners as well as business leaders.
► Rewarding Experience of HKU Business School Student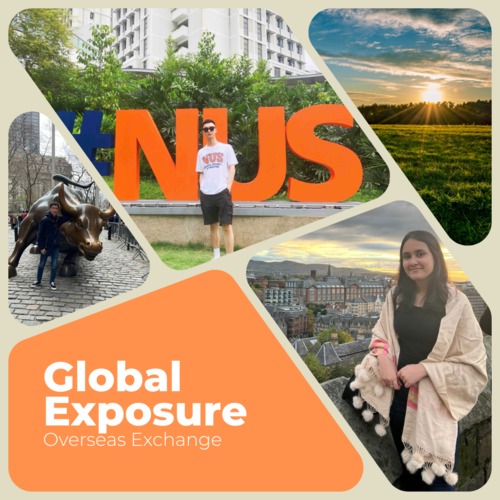 Overseas Exchange
National University of Singapore, Singapore
Luo Yi, BEcon&Fin
" With the genuine aim of cultivating students' global visions and training talents that catering the global markets, Business Exchange Programme has provided students with such a precious platform to let them enjoy the outside-classroom learning experiences. It helps students equip with independence, social interaction, cultural diversity, and intellectual communication and collaboration, which contributes to their personal development as global citizens. Honoured to be selected to go for exchange at NUS, one of the most prestigious universities around the world, the social interaction, cultural diversity, and intellectual collaboration that I have experienced in Singapore are congruent with the initial purpose of this programme. "
King's College London, United Kingdom
Anoushka Kejriwal, BEcon&Fin
" King's College London is a school that is highly ranked in both Economics and Finance, and it offered me all the courses which are essential to complete my double major. The uniqueness of the programs offered is KCL's emphasis on collaboration, innovation, and creativity, where I received the opportunity to learn from courses taught by some of the top professors. My interactions with a diverse set of people exposed me to different cultures, which helped me embrace both our similarities and differences. Participating in Business exchange program did provide me with the greatest stories, most cherished memories, and countless irreplaceable learnings. "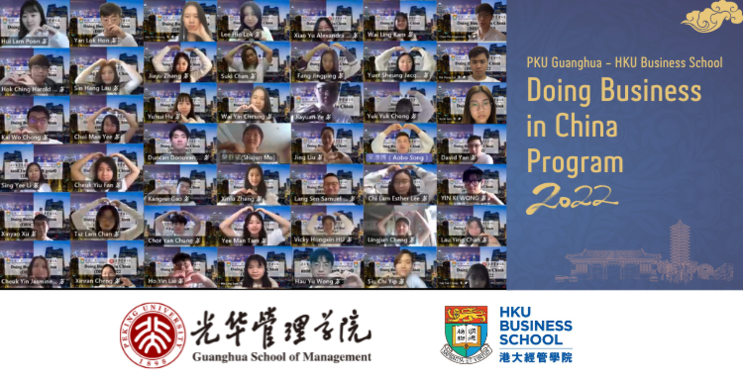 Mainland Programmes
Doing Business in China (DBiC)
Cheng Lingjun, BEcon&Fin
" The course is overall inspiring and comprehensive. The introduction to cultural characteristics and policy features are both based on China's real situation and consequently more precise. The housing price model is also covered, which makes the course more quantitative and impressive than a purely qualitative introduction."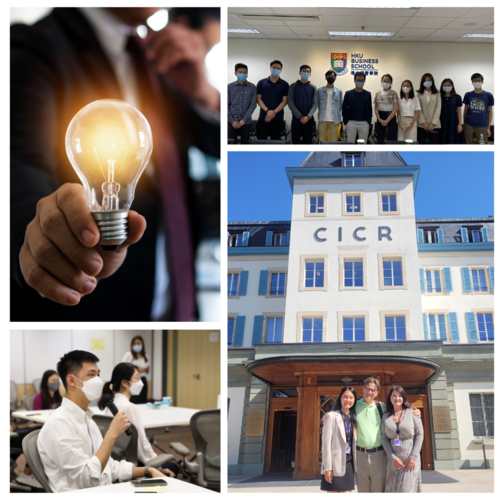 Corporate Partnership Programmes
Accenture Programme
Chung Pok Hong Gavin, BFin(AMPB)
" The Programme provided us with case presentations and interactive activities with consultants. Throughout the case presentation, I learned to provide concrete suggestions to SMEs and to pitch our team's ideas in an organized, concise, and intriguing way. In the one-day programme that allows us to interact with Accenture consultants, I gained insights into some prominent trends, namely the new retail, ESG, and Web 3.0. Moreover, the conversations with consultants also deepened my understanding of the tasks and qualities of a consultant. After the programme, I genuinely learnt more about the life of consultants and hope to be one of them! "
International Committee of the Red Cross (ICRC) Traineeship Project
Liu Jingru, BBA(Law)&LLB
" My traineeship at the ICRC is an adventure that opened the doors to a world that was not accessible to me before. The ICRC with its unique mandate and authoritative status in the humanitarian field opens doors to many positions in the international relations, diplomacy, and politics field. Further, the strong culture at the ICRC to learn on the job and an emphasis on operational reality set itself apart from other similar organisations in Geneva. The real sufferings and issues often emerge quickly from the field and get directly translated into concrete plans and actions. "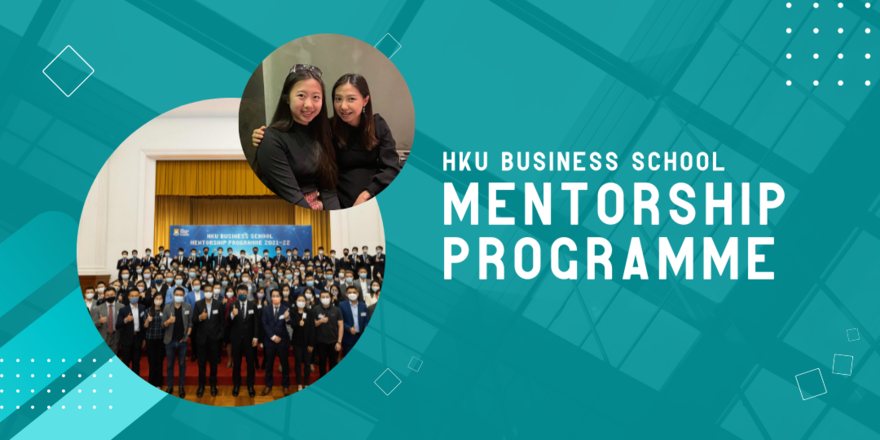 HKU Business School Mentorship Programme
Chu Tsoi Yan, BBA(IBGM)
" My mentor is an all-rounded entrepreneur who devotes effort to caring about the community and the environment. During our first lunch meeting and several online communications, she has shared her career stories with me and has been able to give me invaluable advice on career planning, school-life balance and extracurricular enrichment. I am grateful for my mentor's wise words. "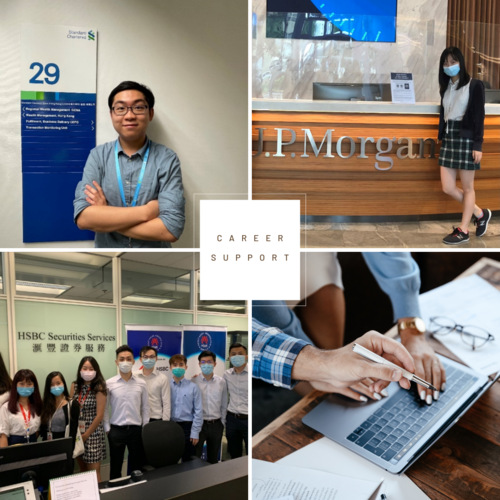 Career Support
Standard Chartered: Wealth Management Internship
Mong Wai Yin, BBA
" I worked in the Wealth Management division at Standard Chartered, gaining exposure to daily operation, driving end-to-end trade execution and expanding my professional network. It was a fruitful experience, taking ownership of the business initiatives and receiving valuable feedback. Grateful to the School for the training and job-hunting materials! "
HSBC: Summer Analyst, Markets & Securities Services
Mak Ho Kei, BBA(Acc&Fin)
" My time at HSBC Securities Services has been absolutely fascinating and eye-opening by working side by side with the teams on regional strategy and product development projects. Also, the networking opportunities with seniors there have offered me first-hand insights into the securities services industry landscape and trends. "
J.P. Morgan: Summer Analyst – Corporate Analyst Development Program
Go Kayuki, BBA(Acc&Fin)
" The internship was definitely one of the highlights of my university life. The skills and knowledge I've gained not only helped me develop professionally but also personally, as it taught me how to be a better communicator and gave me confidence in managing my interpersonal relationships. "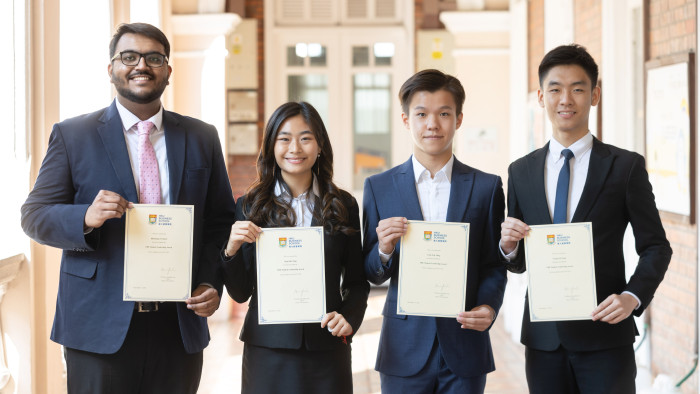 Awards, Prizes and Scholarships
Faculty Student Leadership Award
Bhatnagar Pradyut, BEcon
" The past few years in Hong Kong have been remarkable in terms of being able to meet diverse people, building relationships and gaining access to several opportunities. I am extremely humbled to have received the prestigious Faculty Student Leadership Award 2021-22, and I believe it shall act as a cornerstone in my life moving on. The support from the HKU Business School means a lot and has played a strong role in my journey so far. I believe the next big thing is just one step away for a student, with endless opportunities awaiting me in this city. "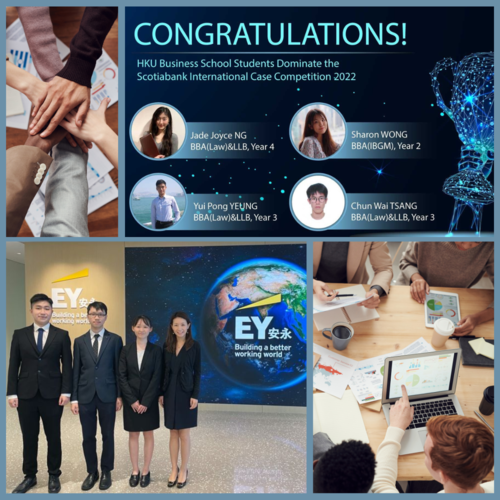 Case Competitions
EYHK - Young Tax Professional of the Year 2022 (The Champion, National Competition)
Lui On Ni, BBA(Law)&LLB
" Young Tax Professional of the Year (YTPY) involves the navigation of international tax to formulate creative approaches to boost our clients' tax efficiency, which entails our role as future qualified tax advisors to understand tax regulations and treaties from the inside out so as to take full advantage of all available tax structures and breaks. I am particularly thankful for the advice given by my faculty advisor Dr. Christina Ng and my EY mentor Ms. Ada Ma throughout the Hong Kong semi-final and the Greater China national round! I shall continue to strive for my very best in the upcoming international round. "
Scotiabank International Case Competition 2022 (Winner)
Yeung Yui Pong, BBA(Law)&LLB
" The experience is eye-opening. It is fantastic to observe the variety of perspectives and approaches to resolving complicated business problems. I am especially inspired by the detailedness of strategies developed by other good-performing participating students. Besides, the judges have provided us with valuable comments which were constructive and helpful in further improving our business consulting skillsets. The virtual engagement and social events also allowed us to experience cultural diversity. "
► Student Enrichment Pathway 2022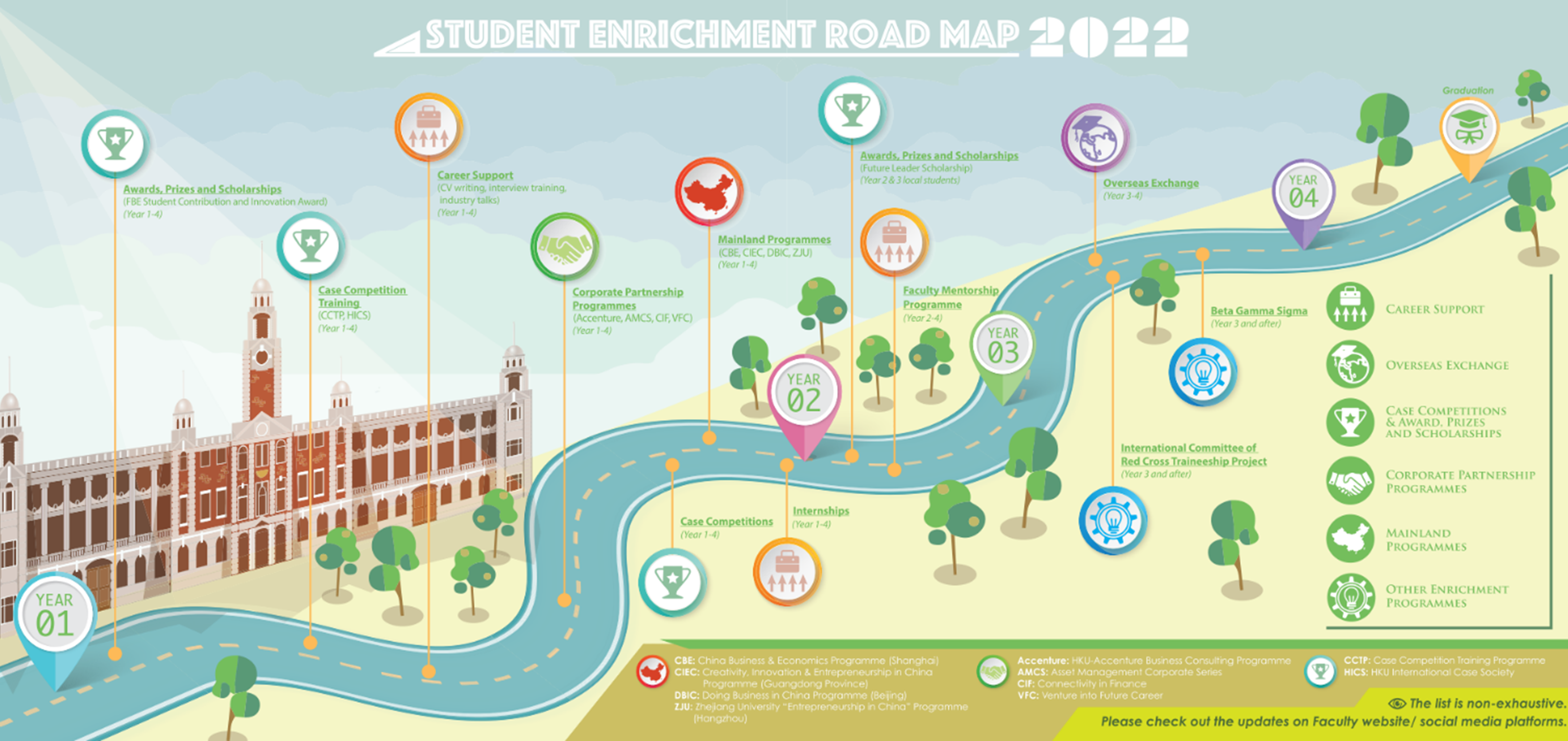 *For reference only. The list is non-exhaustive and the enrichment oppotunities may be subject to change from time to time without prior notice.