To: All non-first-year and non-final year UG students,
Enactus HK is calling applications for their Social Business Internship Programme.
You may refer to the message below for details regarding the programme. Interested students should submit the online application by 11:59 p.m. on April 30, 2021.
---
[Message from Enactus HK]
Are you still exploring your future career path? Are you interested in creating a positive impact on society at your workplace? Look no further, Enactus' Social Business Internship Programme is here for you! This year, Enactus Hong Kong is partnering with 10+ corporates and social businesses to connect you with impact-driven companies and organisations from various industries. Not only can you gain hands-on experience in creating social impact at the workplace and for amazing social causes, but you will also get to know new friends from different universities and benefit from Enactus' training sessions throughout your internship period. Do not hesitate to join us on the journey of learning and creating a better society for all.
Application period: April 1 – 30, 2021 11:59 p.m.
Internship Period: June - August 2021 (8 - 12 weeks, starting date depends on organisations/ companies)
Eligibility:
Non-first-year and non-final year undergraduates who are studying at a local university. Students from all disciplines are welcome.
Important dates for applicants:
| | |
| --- | --- |
| Apr 30 | Application Deadline |
| Early May | First Round Interview |
| Mid - late May | Second Round Interview |
| May 27 | Offer Release |
| May 29 | Opening Ceremony |
You should receive an email within four weeks from the application closing date if we have decided to invite you to the interview.
Applications are reviewed on a rolling basis. Come and join us to explore your future career path and to learn more about social innovation! Please visit https://form.jotform.com/EnactusHK/SBIP2021 to apply.
Should you have any questions, please feel free to contact us at team@enactus.hk.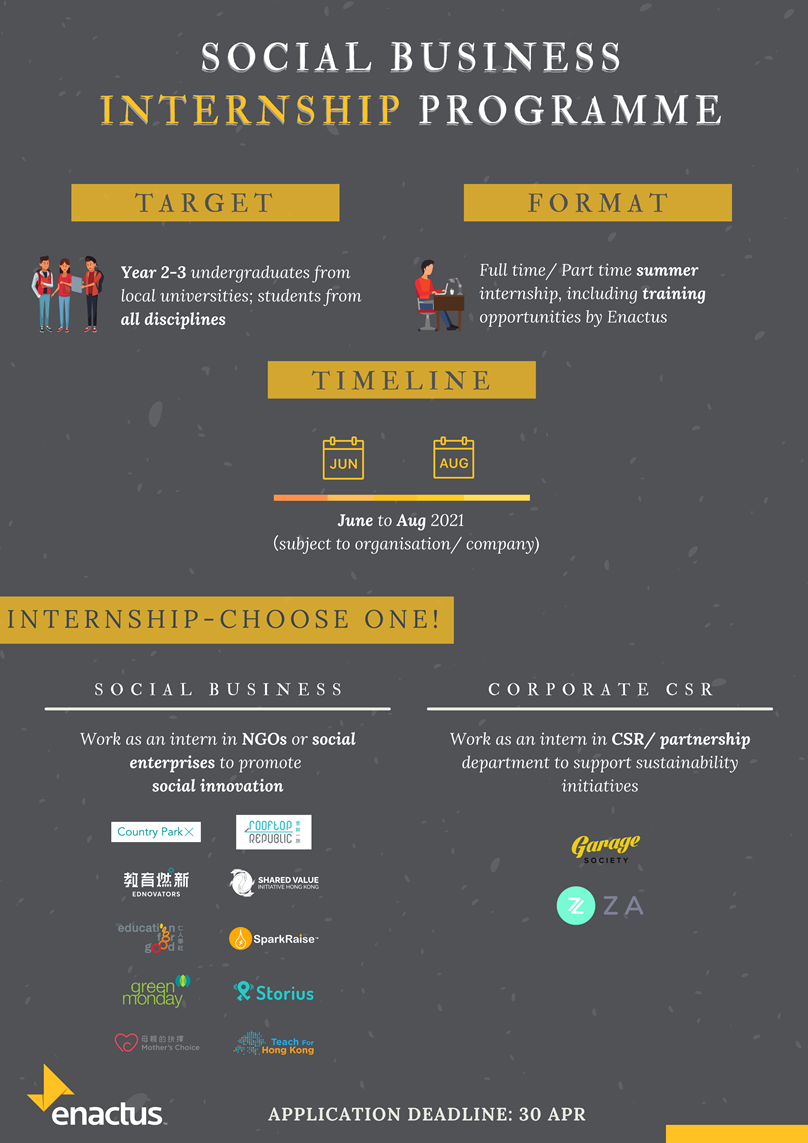 ---
Disclaimer: The data collected through the online application and activities organized are solely administered by Enactus HK. The School shall not be held liable in the case that disputes, loss or any other situations arise.