Entrepreneur Society is recruiting associates for the academic year 2021-22.
You may refer to the below message from Entrepreneur Society for details regarding the recruitment. Interested students should apply online by February 3, 2021.
---
[Message from Entrepreneur Society]
Entrepreneur Society @ HKU's Associate Teams are recruiting!!
As an Associate, you will have the chance to ….
Network with and interview startups
Deliver key insights to the HKU community through publishing articles
Bond with the entrepreneurial community in HKU
Create content for our social media
Deliver project management for ESo future events
Consolidate your skills for the workforce
So what are you waiting for? Join us by either clicking on the link here!
Or by scanning the QR code on the poster! Shortlisted applicants will receive an email for a scheduled interview.
APPLICATION DEADLINE: 11:59 p.m., February 3, 2021 (Wednesday)
Should you have any questions, don't hesitate to email us at entrepreneursocietyhku@gmail.com. We look forward to having you on our team!
The Entrepreneur Society is a student-led, non-profit committee that aims to foster the entrepreneurial spirit among the HKU community. Founded last year, we create a platform for ideas to be shared, developed, and realized with cross-faculty collaboration as our bedrock. We have since hosted interactive activities with 200+ participants, encouraging early-stage idea generation, we aim to provide innovative solutions to societal problems.
Our key objectives include:
- Create an entrepreneurial community for students to exchange their ideas
- Stimulate out-of-the-box thinking
- Bring students to develop and realize ideas through collaboration
Ultimately, we aim to spread the entrepreneurial spirit throughout the HKU campus, and bring entrepreneurship to the next level in HKU!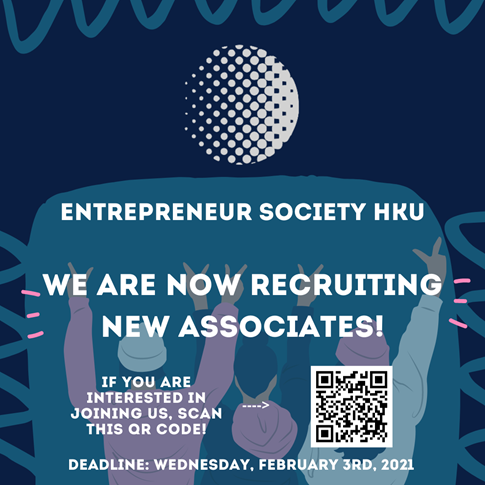 ---
Disclaimer: The data collected through the online application is solely administered by Entrepreneur Society. The School shall not be held liable in the case that disputes, loss or any other situations arise.